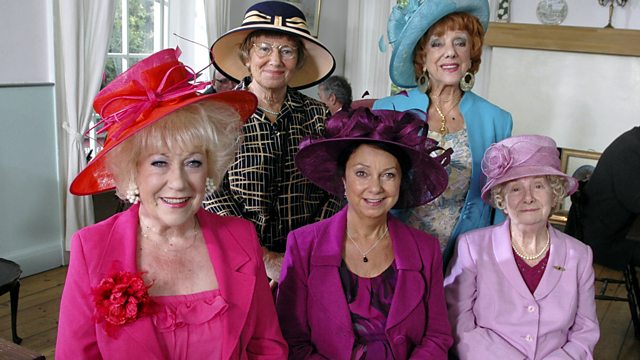 How Not to Cry at Weddings
Everyone is getting ready for the wedding - Clegg wonders if his suit smells of mothballs; Alvin flirts with Stella when she returns from the hairdressers; Howard is concerned that Pearl won't let him back home for his best suit; Hobbo thinks he needs to go for the sympathy vote; and Toby is determined to look his best at the wedding in order to win back Monica, his ex-wife.
Pearl and Howard look back on their relationship and she finally tells him he can come home.
Everyone arrives at the pub for the wedding, but Glenda receives a call to say the bridegroom has done a runner, so they head off with a weary old bus driver who promises to take them all to a nice restaurant. They have a near miss with the police car, but PC' Cooper and PC Walsh are reluctant to leave their vehicle. Only when the bus departs do they get out - to reveal they aren't wearing any trousers.
Clegg wonders if he locked the door.
Last on
Credits
| Role | Contributor |
| --- | --- |
| Glenda | Sarah Thomas |
| Barry | Mike Grady |
| Howard | Robert Fyfe |
| Hobbo | Russ Abbot |
| Alvin | Brian Murphy |
| Entwistle | Burt Kwouk |
| Truly | Frank Thornton |
| Clegg | Peter Sallis |
| Stella | Barbara Young |
| PC Walsh | Louis Emerick |
| PC Cooper | Ken Kitson |
| Pearl | Juliette Kaplan |
| Toby | Trevor Bannister |
| Morton | Christopher Beeny |
| Marina | Jean Fergusson |
| Miss Davenport | Josephine Tewson |
| Tom | Tom Owen |
| Aunty Wainwright | Jean Alexander |
| Conrad | David Ross |
| Writer | Roy Clarke |
| Producer | Alan JW Bell |
| Director | Alan JW Bell |