Music and featured items
24 items
Add music you love and enjoy it with
Today's mystery guest is the one and only Cliff Richard.

The Best Michael Jackson & Jackson Fi, Polygram Tv, 1

The Pretenders - The Singles, WEA

Steely Dan

Reelin' In The Years

A Decade Of Steely Dan, MCA

Golden Oldie

Rediscover The 50's - Here Comes Summ, Old Gold

a-ha

a-ha - Butterfly Butterfly (The Last Hurrah)

(CD Single), Rhino, 1

Lenny Kravitz

It Ain't Over 'til It's Over

Awesome 2 - Various Artists, EMI

Barry White

You See The Trouble With Me

Barry White - The Collection, Mercury, 2

The Cars - Just What I Needed, Elektra

The Rolling Stones

Miss You

The Rolling Stones - Forty Licks, Abkco

Sheryl Crow

A Change Would Do You Good

Woman (Various Artists), Polygram Tv/Sony Tv

The Best Of The Rock'n'Roll Years Vo, BBC

Status Quo

Rockin' All Over The World

Whatever You Want - V.Best Of Status, Polygram Tv

Gobsmackers #1

Morrissey

Every Day Is Like Sunday

Now 12 (Various Artists), Now

Gobsmackers #2

The Greatest Hits Of 1972 (Various), Premier

Dancing In The Street (Various Artis, Universal Music Tv

Oasis

Don't Look Back In Anger

This Year's Love (Various Artists) C, Global Television

Prince

Little Red Corvette

Prince - 1999, Warner Bros
Pause for Thought

The Rev'd Sharon Grenham-Toze, Anglican Vicar and Prison Chaplain.

Bread has been a staple food for human beings for many thousands of years. It's developed in different ways across countries and cultures, from the French baguette to the Mexican tortilla, the Asian naan to the white sliced we know so well in the UK today.

Bread's known as the 'staff of life' – probably because it is such a basic food, made of so few, simple, readily available ingredients – flour, salt, sugar, yeast, oil, water. If you can't rustle up some bread, you're in a bad way.

Bread's also the slang word for money, as is 'dough'. The basics of life again: without money in this old world, things can get complicated.

For much of its history bread's been made fresh every day, by hand, usually by the women in the household. In some ways it's quite hard work making bread – getting the ingredients together, mixing it up, kneading the dough, waiting for it to rise, making sure the oven's the right temperature. Making bread by hand does feel like a labour of love –so it's great when someone you care for tucks into the warm, fresh loaf you've spent hours producing.

And I think working hard to show care and love for those close to you is a basic of life too.

So, life, love, nurture – all summed up in a loaf of bread. Is it any wonder that bread plays a major part in religion too?

In my role as a priest, when I celebrate communion, with its bread and wine, I'm demonstrating to the world in those symbols that God knows and cares about our material needs, that we're loved and that faith is one of the basics of life too.

It's so easy to take our 'daily bread' for granted – and yet, of course, for so many people across the world, all of the things represented by bread are in short supply. Maybe today as we eat our lunchtime sandwich (or even a late breakfast!) we could quietly give thanks for what that bread represents to us – life, love, nurture, and see if we couldn't spread it around a bit.

Today's show was entitled "The longer you wear it, the less you have to wash it!"

The show was dedicated to anyone who is going where they normally go, but not how they normally go!

Today's show starred:

Dave Morgan from Cornwall who is competing at the World Triatholon Championships in Budapest

Mike Pender from Cardiff who is knocking off for good after 40 years

Matt Walmsley from Cheshire celebrates his 39th birthday today

Samuel Lane from Lincolnshire who went to the Thames Barrier

Sarah Knox from Newry who is going to Secondary school today

Anny Murray from Northern Ireland who chose the Golden Oldie

Tracey Barrett from Irvine who made today's Mega-Phone-Call

Sir Cliff Richard OBE was today's Mystery Guest

Rob from Oxford who chose the Gobsmackers

Rev'd Sharon Grenham-Tose who gave us reason to Pause For Thought

Louise Kierney from Enfield who said "hello!"

Stella Lebeau from The Wirral who said "Hawo!"

Tony Watkins from Suffolk said "Helllllllllloo!!"
500 WORDS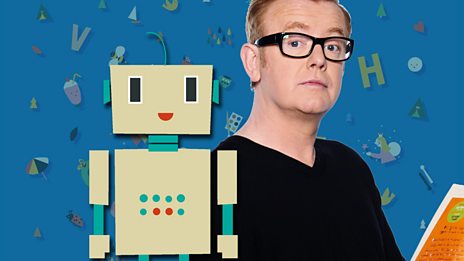 Featuring celebrity videos and top writing tips!
Free download
Catch up with the latest Breakfast fun with Chris Evans. Hear the best stories and the biggest…