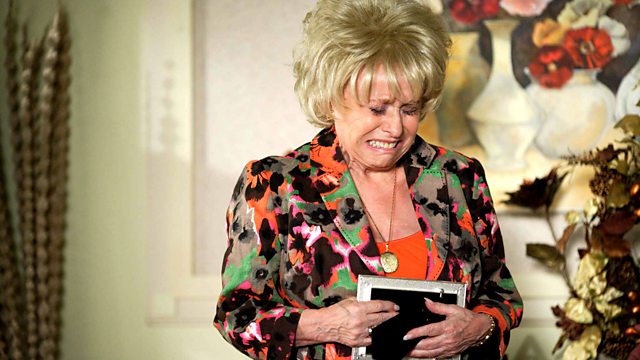 03/09/2010
Bianca worries that she's going to lose Ricky. Sam insists she's going through with the adoption until the very last minute, when Peggy convinces her that keeping the baby is the way to get Ricky back. Peggy proudly brings her new grandson home. Billy takes Peggy to a squalid crack den, Phil's huddled in the corner. Initially, Peggy's determined to get Phil home and cleaned up, but Phil's insistent - Peggy made him like this. Eventually, repulsed, Peggy tells him he'd be better off dead and leaves. Outside, she breaks down, heartbroken.
The stall's doing well. Becca thinks they'll have a deposit for a flat in no time, but Stacey wants to use the money to scatter Bradley's ashes on the beach where they spent their honeymoon. Trying to get Stacey away from Becca, Jean suggests she goes to a young mum's group, but she's thwarted when Becca insists on going too. Stacey's bored by the staid meeting and invites group of mums back to the Slaters'. Becca tells Jean she and Stacey are moving out. Terrified, Jean tells Stacey that Becca called the police on Bradley. Becca denies then admits it, insisting she did it for Stacey, Bradley was a killer. Stacey insists he wasn't then slaps Becca when she asks why Bradley was running. Becca smashes Bradley's urn against the wall, covering Stacey in his ashes. Jean throws Becca out, then comforts Stacey, washing away the ash. Stacey tells Jean Bradley didn't die because of Becca, he died because of her, but Jean refuses to let Stacey blame herself.
Tiffany drops hints about being a bridesmaid at Ryan and Janine's wedding. Ryan thinks Janine's lucky that her family want to come. Janine's thrilled when Ryan buys her a wedding ring.
Last on
Credits
| Role | Contributor |
| --- | --- |
| Peggy Mitchell | Barbara Windsor |
| Phil Mitchell | Steve McFadden |
| Billy Mitchell | Perry Fenwick |
| Sam Mitchell | Danniella Westbrook |
| Ricky Butcher | Sid Owen |
| Bianca Butcher | Patsy Palmer |
| Jack Branning | Scott Maslen |
| Ronnie Mitchell | Samantha Womack |
| Roxy Mitchell | Rita Simons |
| Pat Evans | Pam St Clement |
| Janine Malloy | Charlie Brooks |
| Ryan Malloy | Neil McDermott |
| Stacey Branning | Lacey Turner |
| Jean Slater | Gillian Wright |
| Becca Sawnson | Simone James |
| Carol Jackson | Lindsey Coulson |
| Whitney Dean | Shona McGarty |
| Jay Brown | Jamie Borthwick |
| Brogan Callan | Lucinda Millward |
| Executive Producer | Bryan Kirkwood |
| Director | Rupert Such |
| Writer | Richard Davidson |