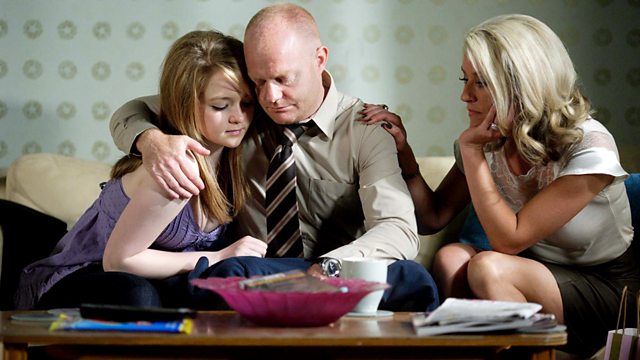 27/08/2010
A subdued Jane digests the news of Lucy's abortion but says nothing; unwilling to believe the betrayal. Jane's aghast to discover that Ian knew of Lucy's plans to cheat. She orders Lucy to contact Mr Allcock and exonerate Peter. Lucy later announces she's leaving school and is moving to Devon with her grandmother. Jane confronts Peter about Lucy's abortion, asking whether Ian was in on it. Peter's silence speaks volumes and Jane's left crushed. Jane confides in Denise, before packing her bags, adamant that she's leaving. With Lucy having left Walford, Peter suggests it may be a good opportunity to bring the adoption forward. Jane's left hesitant. Denise is relieved to later see Jane with Ian, assuming Jane's decided not to leave. Jane coldly tells her that nothing's changed. She's still leaving, but she plans to go with what's owing to her.
Becca deletes a voicemail for Stacey from Max regarding scattering Bradley's ashes. Stacey's bemused when Dot mentions it. Offended at being excluded, Stacey confronts Max. Max protests that he left a message, but Stacey's convinced he doesn't want her there. Max implores Stacey to accompany them. Stacey relents and they set off. Unable to let Bradley go, Stacey breaks down. Max gives her the urn. Becca watches on with disapproval.
Shirley warns Minty off Heather. Heather's furious to hear of Shirley's interference and challenges her, claiming Shirley's a hypocrite. Shirley's left chastised and later makes a peace offering.
Tamwar's uncomfortable when Syed's excluded from a family video message for Shabnam, and secretly takes the camera to him. Syed records his message, but is wounded on seeing Zainab's message with no mention of him. Tamwar tenses when Zainab asks to view the tape, but Syed has deleted his message. Once alone, Tamwar records his own message explaining about Syed.
Last on
Credits
| Role | Contributor |
| --- | --- |
| Jane Beale | Laurie Brett |
| Denise Johnson | Diane Parish |
| Ian Beale | Adam Woodyatt |
| Peter Beale | Thomas Law |
| Lucy Beale | Melissa Suffield |
| Stacey Branning | Lacey Turner |
| Max Branning | Jake Wood |
| Vanessa Gold | Zoe Lucker |
| Becca Swanson | Simone James |
| Dot Branning | June Brown |
| Abi Branning | Lorna Fitzgerald |
| Jean Slater | Gillian Wright |
| Mo Harris | Laila Morse |
| Heather Trott | Cheryl Fergison |
| Shirley Carter | Linda Henry |
| Minty Peterson | Cliff Parisi |
| Executive Producer | Bryan Kirkwood |
| Director | Lance Kneeshaw |
| Writer | Rachel Flowerday |
| Syed Masood | Neil McDermott |
| Tamwar Masood | Himesh Patel |
| Zainab Masood | Nina Wadia |
| Masood Ahmed | Nitin Ganatra |
| Zsa Zsa Carter | Emer Kenny |
| Jordan Johnson | Michael-Joel David Stuart |