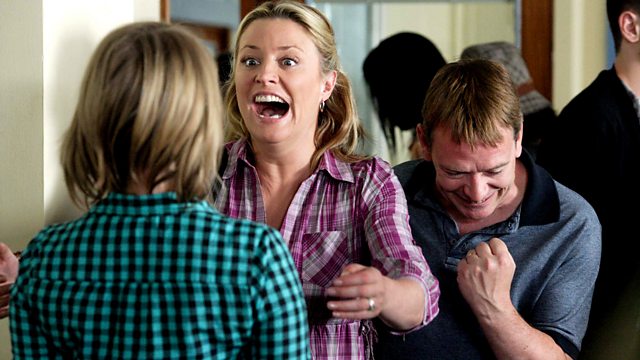 24/08/2010
Minty is in high spirits following Sam's acceptance of his marriage proposal. He assures Ricky that he's taking care of things. Minty tentatively breaks the news of his engagement to Heather. Though devastated, she's supportive of her friend and offers to assist him in choosing a ring. Minty arrives at the hospital with the ring; only to find Ricky there. Despite not wanting anything to do with the baby, Ricky says he had to make sure Sam was alright. Alone with Sam, Minty prepares to present his ring, but is halted as Sam says its obvious Ricky's still in love with her. He's left devastated as she claims she can't recall accepting his marriage proposal. Heather's concerned when a downcast Minty returns home to drown his sorrows. As they share a heart to heart, Minty regrets letting Heather go and goes to kiss her. Heather pulls away, fearing being hurt again. Minty assures Heather that she's what he wants and they kiss.
Ian continues to reminisce about his youth. In an effort to recapture his forgotten dreams, Ian buys a drum kit. Exasperated, Jane reminds him to focus on supporting the kids as they collect their exam results. Lucy aces her exams and to Ian's amazement, Peter performs well too. As the family celebrate, they're interrupted by Mr. Allcock. They're dismayed to learn that there have been allegations of cheating on Lucy's papers, and as a result both twins' papers are to be investigated.
Fearing she and Max don't really know each other, Vanessa suggests they have a Q&A session in order to bond. It backfires when Bradley is mentioned and Max loses his temper. A distressed Dot returns Bradley's ashes to Walford. Bringing them to Max's, she's appalled to find him post-coital with Vanessa and far from grieving.
Last on
Credits
| Role | Contributor |
| --- | --- |
| Heather Trott | Cheryl Fergison |
| Minty Peterson | Cliff Parisi |
| Ian Beale | Adam Woodyatt |
| Jane Beale | Laurie Brett |
| Lucy Beale | Melissa Suffield |
| Peter Beale | Thomas Law |
| Bobby Beale | Alex Francis |
| Dot Branning | June Brown |
| Max Branning | Jake Wood |
| Vanessa Gold | Zoe Lucker |
| Grace Olubunmi | Ellen Thomas |
| Mercy Olubunmi | Bunmi Mojekwu |
| Leon Small | Sam Attwater |
| Arthur 'Fat Boy' Chubb | Ricky Norwood |
| Zsa Zsa Carter | Emer Kenny |
| Shirley Carter | Linda Henry |
| Executive Producer | Bryan Kirkwood |
| Director | Lance Kneeshaw |
| Writer | Matt Evans |
| Ricky Butcher | Sid Owen |
| Bianca Butcher | Patsy Palmer |
| Sam Mitchell | Danniella Westbrook |
| Mr Allcock | Bill Buckhurst |
| Sales Assistant | Emma Campbell-Jones |