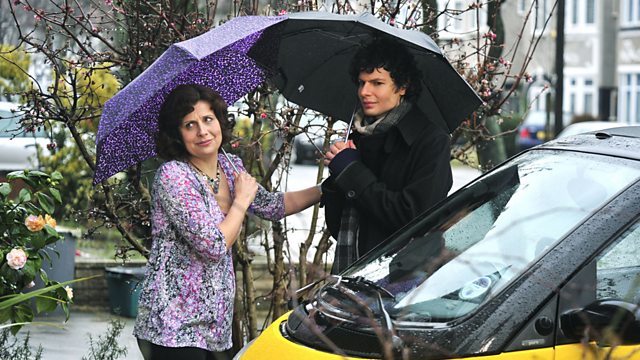 The Day Simon Decided It Might Be a Nice Idea to Surprise His Mother with a Gift
Sitcom written by Simon Amstell and long term collaborator Dan Swimer. The series stars Simon Amstell playing a version of himself - a television presenter searching for something more meaningful to do with his life. Each episode takes place at his Grandma's House, where Grandma welcomes her family, desperate to see everyone happy.
Simon brings his mum Tanya an extravagant gift which she refuses to accept. He also tries to convince her that maybe she shouldn't marry Clive. It's Liz's birthday, but nobody seems to care, and Grandad has news from the doctor about his cancer scare. When Simon decides he might write a play for the theatre, the family aren't impressed.
Last on
Credits
| Role | Contributor |
| --- | --- |
| Simon | Simon Amstell |
| Grandma | Linda Bassett |
| Tanya | Rebecca Front |
| Adam | Jamal Hadjkura |
| Grandpa | Geoffrey Hutchings |
| Auntie Liz | Samantha Spiro |
| Clive | James Smith |
| Producer | Ben Cavey |
| Director | Christine Gernon |
| Writer | Simon Amstell |
| Writer | Dan Swimer |
Buy online
Buy online
Available on: DVD or Video download
From suppliers including: Amazon Video, iTunes