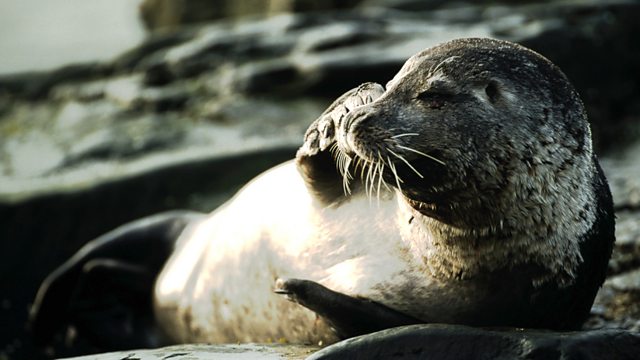 Harbour Seals
Listen in pop-out player
7/18. It's usually very difficult to get close to or even see Harbour or Common seals, but there is one place in Scotland where they haul out and have their pups on a sandbank just 80 metres from the shore. Lionel Kelleway visits this magical spot in Loch Fleet to enjoy the rare wildlife spectacle of hundreds of mother seals perched in their characteristic banana pose, suckling and caring for their pups.
The person who knows most about the seals is PhD student Line Cordes who has been watching them intensively during the breeding season for the last four years. She has taken photographs of every seal in the area and from the patterns on their faces can now identify every seal on sight. From this study she is building a detailed picture of each seal's breeding behaviour and movements. This is giving a unique insight into the lives of Harbour Seals which have rarely been studied this intensively. She and Professor Paul Thompson, both from the School of Biological Sciences in Aberdeen, hope that their findings will help inform management strategies for the species.
Lionel Kelleway gets a lesson in Harbour seal identification and is clearly delighted with his close encounter.
Presented by Lionel Kelleway
Produced by Tania Dorrity.
Last on