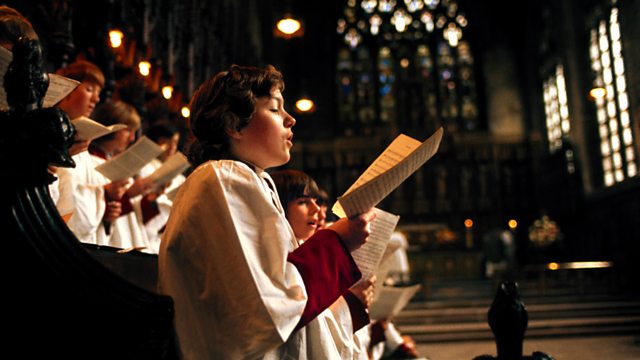 25/08/2010
From the Priory Church, Edington, Wiltshire, during the 2010 Festival of Music within the Liturgy.
Introit: Ut tecum lugeam (Graham Ross) Festival commission
Responses: Plainsong
Psalm: 86 (Martin)
First Lesson: 1 Samuel 2 vv1-10
Office Hymn: Stabat Mater (Plainsong)
Canticles: Octavi toni (Tallis)
Second Lesson: Luke 2 vv21-35
Anthem: Gaude, gaude, gaude Maria (Sheppard)
Final Hymn: O love how deep, how broad, how high! (Eisenach)
Organ Voluntary: Fuga sopra il Magnificat, BWV 733 (Bach)
Conductors: Andrew Carwood, Matthew Martin, Jeremy Summerly
Organist: Peter Stevens
Edington is a small village on the edge of Salisbury Plain boasting a magnificent fourteenth century Priory church. It's there that singers from many of the great cathedral and collegiate choirs in the country come together in the last week of August to take part in a Festival of Music within the Liturgy. The Festival's theme this year is the Seven Last Words of Christ on the Cross, and as usual, BBC Radio 3 will be broadcasting the Choral Evensong live on Wednesday afternoon and repeated on Sunday. Three groups of singers will take part in this broadcast - a Consort of mixed voices directed by Jeremy Summerly, a Nave choir of men and boys directed by Matthew Martin and the Schola Cantorum, a group singing plainsong directed by Andrew Carwood. The canticles are by Tallis, the anthem is by John Sheppard and the newly commissioned introit to words from the medieval hymn Stabat Mater is from the young composer and conductor Graham Ross, recently appointed director of chapel music at Clare College Cambridge.
Last on