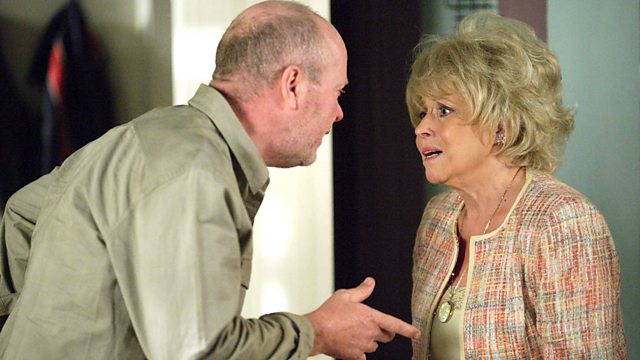 20/08/2010
Shocked by the state of Phil, Peggy walks out of No. 27 and returns to the Vic. Ronnie thanks her for the meal, and Roxy assures Peggy Sal was wrong about them not really being family. Peggy realises Shirley knows that Phil's on crack, the two women blame each other for what Phil doing and Peggy sacks Shirley. Peggy storms back over to No. 27, insistent that she's going to sort Phil out and get him into rehab. Angry, Phil starts to taunt Peggy, telling her she's pushed all her children away with her nagging. Peggy slaps Phil; he grabs her and throws her out onto the street, telling her she's nothing. Pat helps Peggy up and takes her home. Peggy starts to think Phil was right, and wonders if it's too late for her and Sam. She gets Jack to pull some strings so she can visit her daughter in prison. Sam's not pleased to see Peggy, and tells her mum she wants nothing to do with her. Peggy's shocked when Sam stands up, she's heavily pregnant.
Carol insists the date with Lewis was a disaster, until Lewis phones and tells Bianca he's looking forward to seeing Carol again. Carol admits the date wasn't that bad, but she's scared of what happens next – men have expectations. Bianca tries to boost Carol's confidence by getting Ricky to compliment her, but starts to feel insecure herself when Ricky starts waxing lyrical about her mum's legs. Carol calls Lewis. Ricky assures Bianca she's all he wants in a woman.
Abi and Darren aren't impressed that Vanessa's moved in. Abi retreats to the launderette and shares her troubles with Heather. She understands why her parents aren't together any more, but she still doesn't like it. Heather cheers Abi up with crisps and sympathy.
Last on
Credits
| Role | Contributor |
| --- | --- |
| Sam Mitchell | Danniella Westbrook |
| Peggy Mitchell | Barbara Windsor |
| Phil Mitchell | Steve McFadden |
| Shirley Carter | Linda Henry |
| Ronnie Mitchell | Samantha Womack |
| Roxy Mitchell | Rita Simons |
| Jack Branning | Scott Maslen |
| Carol Jackson | Lindsey Coulson |
| Bianca Butcher | Patsy Palmer |
| Ricky Butcher | Sid Owen |
| Pat Evans | Pam St Clement |
| Max Branning | Jake Wood |
| Darren Miller | Charlie G Hawkins |
| Vanessa Gold | Zoe Lucker |
| Abi Branning | Lorna Fitzgerald |
| Heather Trott | Cheryl Fergison |
| Executive Producer | Bryan Kirkwood |
| Director | Michael Owen Morris |
| Writer | Daran Little |