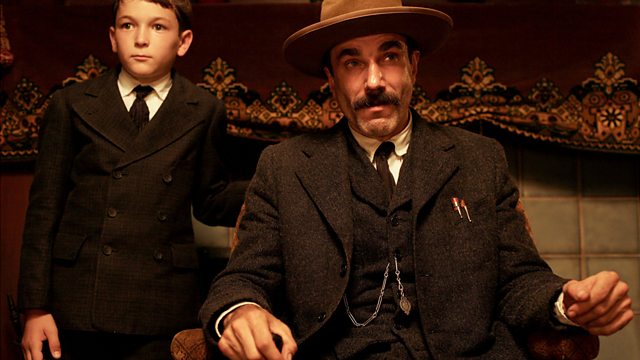 There Will Be Blood
Oscar-winning American epic directed by Paul Thomas Anderson, set in early 20th-century Texas. Daniel Day-Lewis plays oilman Daniel Plainview, a shrewd, self-made tycoon who will stop at nothing to expand his control of the developing oil industry - despite eliciting contempt from his nemesis, local preacher Eli Sunday.
BBC iPlayer - There Will Be Blood
This programme is only on BBC iPlayer for 7 days after broadcast, and cannot be downloaded, only streamed. We always aim to offer our programmes to stream and download for 30 days; however for a number of reasons including technical problems, legal or contractual issues this isn't always possible.
Credits
| Role | Contributor |
| --- | --- |
| Daniel Plainview | Daniel Day-Lewis |
| Paul Sunday/Eli Sunday | Paul Dano |
| Adult HW | Russell Harvard |
| HW | Dillon Freasier |
| Henry | Kevin J O'Connor |
| Fletcher | Ciaran Hinds |
| HB Ailman | Barry Del Sherman |
| Prescott | Paul F Tompkins |
| Signal Hill Man | Kevin Breznahan |
| Mary Sunday | Sydney McCallister |
| Adult Mary Sunday | Colleen Foy |
| Writer | Paul Thomas Anderson |
| Author | Upton Sinclair |
| Director | Paul Thomas Anderson |