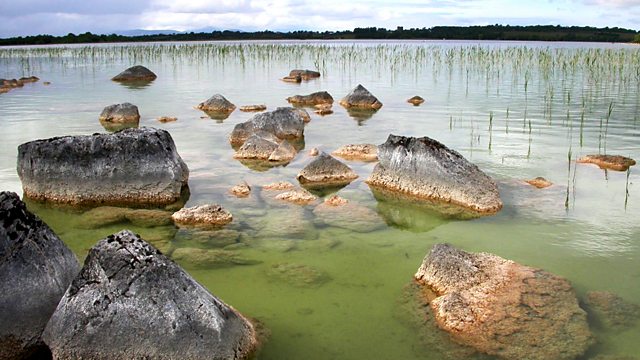 Western Irish Lake District
Listen in pop-out player
To the north of Galway in Ireland lies the Lake District.....but not a Lake District that Alfred Wainwright might instantly recognise. This is the Irish Lake District, where three major lakes can be found - from north to south they are Loughs Carra, Mask and Corrib. Unusually all the three lakes are located almost entirely on low lying limestone, which is notoriously a leaky rock. Because of this, the lake system encompasses some of the most fascinating hydrology and lake shore features. Helen Mark begins her exploration of the lakes with geologist, Mike Simms, at Lough Mask where the shoreline resembles a vast empty egg box, a feature formed by the rise and fall of the water on the limestone. From here, Helen travels to Lough Carra where she takes to the water with ecologist and farmer, Chris Huxley. The bed of the lake consists of marl, a calcerous deposit, which gives the lake its distincitive and characteristic appearance. Lough Carra is a wildlife sanctuary and home to a wide variety of wild orchids but in recent years the lake has been threatened by pollution caused by modern intensive farming methods.
Loughs Mask and Corrib are connected by an underwater stream with water draining from sinkholes on the shore of Lough Mask to springs in the village of Cong. Before the 1840s and the building of the Cong Canal, these would have been among the largest in the world but they were robbed of their peak flows by the canal which ultimately failed because it was constructed on the leaky limestone. Helen hears about the ill-fated canal from historian, Gerard Moran, and along with caver, Pat Cronin, she descends the stone staircase to Pigeon Hole, one of the many underground caves and passages that connect Lough Mask to Carra.
Helen ends her journey at Lough Carra, the second largest lake in Ireland, from where the water eventually empties into Galway Bay.
Producer: Helen Chetwynd.
Last on