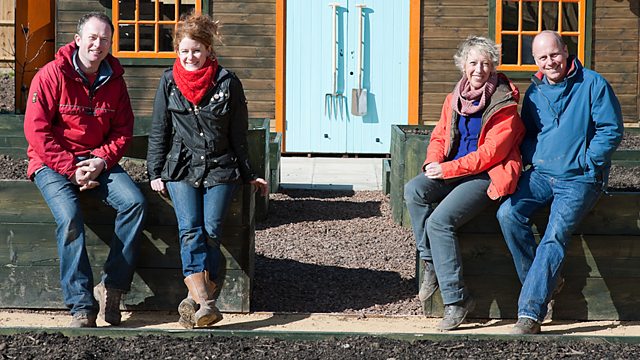 It's the holiday season and there's no better time for Gardeners' World to take to the road, so when Toby Buckland and Carol Klein heard about a community of gardeners in the Ribble Valley in Lancashire with some of the commonest garden problems, they didn't need asking twice to head out and see if there was anything they could do to help. Toby concentrates on the gardens and allotments in the picturesque village of Chatburn, tackling problems large and small, from a rampant clematis that's starting to block the light from one lady's window to finding an ingenious solution to the local butcher's balding lawn.
Carol is just a few miles down the road at Knowle Green, where a tight-knit community of keen gardeners are seeking some advice on issues ranging from propagation to pruning. Carol meets cheese-maker Tilly Carefoot who's made a stunning garden with a surprise at every turn and helping her breathe new life into a plant damaged by this year's harsh winter. She'll also be tackling a badly behaved mock orange in Jean's garden and helping the newest gardener, Janet to fill up her garden by propagating from her existing plant stock.
For the veg lovers amongst us, Toby is at the Chatburn allotments to meet a community of enthusiastic allotmenteers, from 78 year old Ernie Sedgwick who has gardened all his life, to first year grower Rachel whose love of Thai food has propelled her towards plants like lemongrass, which she's unsure how to grow. There'll also be tips on how to continue cropping into autumn and what to do with your asparagus plants in the first couple of years of growth.
Last on
Credits
| Role | Contributor |
| --- | --- |
| Presenter | Toby Buckland |
| Presenter | Carol Klein |
| Producer | Louise Hampden |
| Producer | Liz Rumbold |