Gurinder Chadha

Gurinder Chadha is arguably Britain's most successful female director. With films such as 'Bhaji on the Beach', 'Bend It Like Beckham' and 'Bride and Prejudice'. Most of her films explore Asian family life in a British setting. Her new film, 'It's a Wonderful Afterlife' continues the theme with an added ingredient of horror. Gurinder joins Jenni to discuss the film and her latest project which looks at India's fight for independence in 1947.

'It's A Wonderful' is released on DVD

Sarah Raven

Sarah Raven is a writer, cook,and teacher and a regular on 'Gardeners World'. She is an expert on all things to grow, and eat from your garden. Her latest book 'Food for Friends and Family' has 400 seasonal recipes. She joins Jane to share and make some of her favourite tastes of the summer.

'Food for Friends & Family' by Sarah Raven

RECIPES

Andalusian soup salad

The key thing is not to chop the veg too finely: the chunks should be about 1cm across. It's also essential to start making this soup at least a couple of hours before you want to eat. It best eaten really cold, so needs an hour or two in the fridge.

For 6 as a starter, 4 for lunch.

Ingredients:
- 3 large, ripe vine tomatoes, peeled
- 2 hard- boiled eggs
- 2 tablespoons Dijon mustard
- 4 tablespoons extra virgin olive oil, plus a little extra for serving
- 4 tablespoons red wine vinegar,
- 2 garlic cloves, crushed
- 1 slice stale, white bread, crusts removed, torn up
- ½ large cucumber, peeled (if you want), deseeded and chopped
- 1 red pepper deseeded and chopped
- 4 spring onions, thinly sliced
- 1 red chilli, deseeded and thinly sliced (optional)
- 1 litre tomato juice
- salt and black pepper
- A little fresh oregano, coarsely chopped, to serve.

Method

Coarsely chop the tomatoes and chuck away the hard woody cores.

Shell the hard-boiled eggs and separate the whites from the yolks. Coarsely chop the whites and put to one side.

In a large bowl, mix the mustard, olive oil, vinegar, garlic, torn bread, and eggs yolks to make a paste.

Add the tomatoes and all the vegetables, then the tomato juice. Stir it all together. Taste, and season with plenty of salt and black pepper. Add the chopped egg whites just before putting the soup in the fridge to chill thoroughly.




Party Plum Tart


Ingredients - For 8-10
- 12 plums, halved and stones removed
- 3 tablespoons cointreau,
- 200g caster sugar, plus 1 tablespoon extra
- 300g unsalted butter, softened
- juice of 1 large lemon
- grated zest of 2 lemons
- 300g blanched whole almonds, coarsely ground
- 1 tablespoon plain flour
- 2 eggs
- 1 teaspoon vanilla extract


For the Pastry

300g plain flour
200g unsalted butter, cut into cubes
3 egg yolks
75g icing sugar
Pinch of salt.

Method

- Put the plums in a bowl and add the Cointreau and 1 tablespoon caster sugar. Mix and leave to marinate, ideally overnight.

- To make the pastry, sift the flour into a bowl and rub in the butter until the mixture resembles coarse breadcrumbs. Alternatively, pulse in a food processor.

Add 2 egg yolks, the icing sugar and salt and mix/pulse again until the pastry comes together into a ball. Wrap it into cling film and chill for 1 hour.

- Preheat the oven to 180c/gas mark 4 and heat a baking sheet until searing hot.

Line the base of a loose-bottomed 30cam tart tin with a silicone sheet or baking parchment (the rich pastry can stick). Roll out the pastry 3-4mm thick and use to line the prepared tin, leaving the excess draped over the sides in case it shrinks.

- Prick the bottom of the pastry case with a fork, line with greaseproof paper or foil and weight this down with baking beans or rice. Place on the hot baking sheet and bake for about 15 minutes. Take it out, remove the baking beans and paper and leave to cool for 5 minutes. Brush the pastry case with the remaining egg yolk and bake for 5 more minutes to create a hard base. Allow to cool, then trim of the excess pastry. Lower the oven to 150C/gas mark 2 and reheat the baking sheet.

- Using an electric mixer, cream the butter and 200g of caster sugar until the mixture is pale. Add the lemon juice and zest, ground almonds and flour and beat to combine. Add the eggs, one at a time, mixing well. Finally, add the vanilla extract and juice from the marinated plums.

- Spoon this mixture into the pastry case. Push the halved plums (there should be enough to be almost touching each other) and bake on the hot baking sheet for 40 – 50 minutes,

until golden brown. Cover with foil if the top is browning too quickly.

Sarah Raven

Women in Post Communist Politics

A centre-right party in the Czech Republic has published a 2011 calendar featuring its female politicians in provocative, 'sexy' poses. One of the women featured in the calendar, MP Lenka Andrysova, says the calendar highlights the fact there are women in Czech politics. Czech feminists respond women shouldn't have to rely on being 'sexy' to be noticed in public life. It's a far cry from life under communism, when a quota system ensured women made up at least 30% of the Czechoslovakian Parliament. So how did women get from there to where they are today? And what's the situation like in other post Communist societies? Jane discusses the issues with Jana Kavkova from the Czech feminist organization Forum 50%, and Erika Kispeter, a sociologist at the University of Central Europe in Budapest.

Kids Clubs on Holiday

Is it okay to put your children in kids clubs during your family holiday? Are they dumping grounds for bored children while parents read by the pool or take a long lunch with a bottle of wine? Or a place where children can make new friends and learn new things rather than hang out with their boring parents? Writers Jojo Moyes and Lucy Cavendish discuss.
Woman's Hour Power List 2014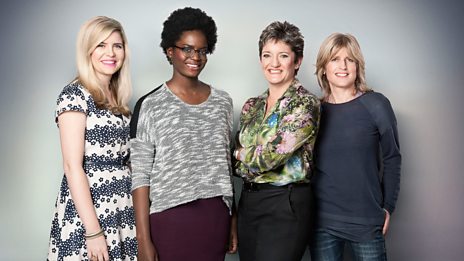 Identifying the top ten game changers operating in the UK today.
Free downloads
Discover cooking techniques and tips to help you perfect your cooking know-how. Jenni Murray and…

Which ten women in the UK have done most to game-change the way power operates in the UK, whether in…

Woman's Hour brings you the big celebrity names and leading women in the news, with subjects ranging…