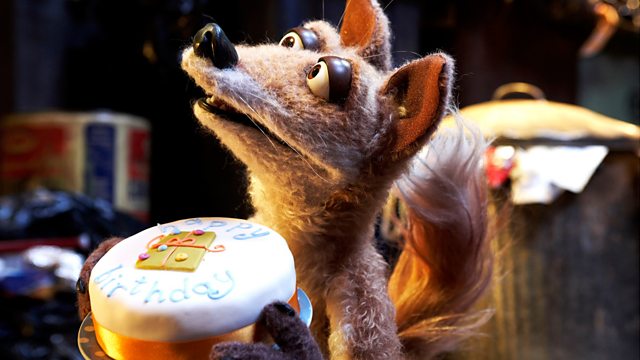 Adult multi-species puppet comedy about five urban animals who hang out together in the back yard of an inner city pub. Starring Nelson, a metrosexual fox; Destiny, a pretentious pedigree It-bitch Afghan hound; Marion, a freshly-neutered wannabe tomcat; Kali, a deeply cynical pigeon; and Vince, the neighbourhood sociopath. Created by Adam Miller, developed by Jon Brown, Adam Miller and Daniel Peak, written by Jon Brown and Daniel Peak, and featuring the voices of Rufus Jones, Lucy Montgomery, Dan Tetsell, Katy Brand, Paul Kaye and Ruth Bratt. Puppets created by Talk to the Hand.
With his nasty neighbour Vince in a coma, Nelson must look after his territory for him. It's time for Nelson to invoke middle-class techniques to keep the dangerous occupants under control.
Just as she gets fed up with her latest controlling boyfriend, fate gives Destiny the chance to date her dream partner. He's unresponsive, he'll do anything she asks and he won't even answer back - it's the comatose Vince.
When You've Been Framed broadcasts her mum's tragic death on nationwide TV, Kali decides to take revenge on the show's presenter Harry Hill, with the help of a Thai bride and some Genesis.
Guest star: Vicki Butler Henderson
Song: Middleclass Is Magical.
Last on
Credits
| Role | Contributor |
| --- | --- |
| Marion (voice) | Dan Tetsell |
| Marion | Warrick Brownlow-Pike |
| Nelson (voice) | Rufus Jones |
| Nelson | Andy Heath |
| Destiny (voice) | Lucy Montgomery |
| Destiny | Richard Coombs |
| Destiny | Sue Beattie |
| Kali (voice) | Katy Brand |
| Kali | Iestyn Evans |
| Sandra (voice) | Ruth Bratt |
| Vince (voice) | Paul Kaye |
| Gary | Tony Way |
| Herself | Vicki Butler-Henderson |
| Additional voices | Ruth Bratt |
| Additional voices | Lewis Macleod |
| Saleswoman | Rosamund Hanson |
| Puppeteer | Wim Booth |
| Puppeteer | Mandy Glass |
| Puppeteer | Matt Hutchinson |
| Puppeteer | Toby Olie |
| Puppeteer | Janet Knetchel |
| Puppeteer | Mak Wilson |
| Puppeteer | Yvonne Stone |
| Producer | Stephen McCrum |
| Director | Adam Miller |
| Writer | Jon Brown |
Buy online
Buy online
Available on: DVD, Blu-ray or Video download
From suppliers including: Amazon Video, BBC Store