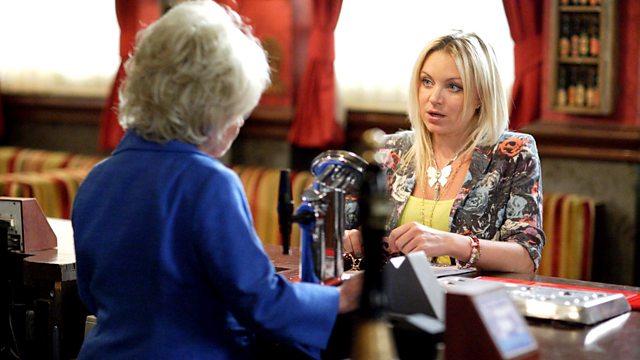 02/08/2010
Peggy implores an unwavering Roxy to halt the Vic sale, and is mortified to hear that a prospective buyer is coming for a viewing. Phil asks Peggy to watch Louise while he visits Ben in prison. In an effort to put off the potential buyer, Louise, Pat and Peggy trash the Vic. Anxiously awaiting the arrival of the estate agent, Peggy grows impatient when Louise probes her about Lisa. Snapping, Peggy reveals Lisa's been in contact. Louise demands to see her but Peggy ends up bad mouthing Lisa, leaving Louise hurt. Meanwhile Phil waits expectantly in the visiting room for Ben. He's left devastated when he's eventually given news that Ben is refusing to see him and doesn't want him to come again. Peggy's horrified to find that Louise is missing.
Patrick tries to hold the family together in Denise's absence. He consoles a forlorn Jordan who's struggling to come to terms with his father's actions. With Libby having returned from Owen's funeral, Chelsea insists that they must now move on from their fathers. Talking to Liz about Spain, Chelsea rethinks her life in Walford. Patrick is gutted to overhear Chelsea telling Libby she plans to move to Spain.
Max ribs an anxious Darren over his impending circumcision. Darren retorts that Max is alone. With Darren's words having struck a chord, Max phones Vanessa. Max and Vanessa head for the bedroom but are interrupted when Abi arrives home. Max resists telling Abi that Vanessa is there and instead flits between the two in order to placate them. Catching them, Abi berates Max for lying.
Bianca's hurt when Ricky snubs her amorous advances. Bianca reveals to Whitney that her sex-life with Ricky is dwindling. Whitney relays the story to Carol, who tries to give advice to an unreceptive Bianca.
Last on
Credits
| Role | Contributor |
| --- | --- |
| Peggy Mitchell | Barbara Windsor |
| Pat Evans | Pam St Clement |
| Roxy Mitchell | Rita Simons |
| Phil Mitchell | Steve McFadden |
| Louise Mitchell | Brittany Papple |
| Libby Fox | Belinda Owusu |
| Chelsea Fox | Tiana Benjamin |
| Patrick Trueman | Rudolph Walker |
| Liz Turner | Kate Williams |
| Zainab Masood | Nina Wadia |
| Jordan Johnson | Michael-Joel David Stuart |
| Darren Miller | Charlie G Hawkins |
| Max Branning | Jake Wood |
| Vanessa Gold | Zoe Lucker |
| Abi Branning | Lorna Fitzgerald |
| Bianca Butcher | Patsy Palmer |
| Ricky Butcher | Sid Owen |
| Whitney Dean | Shona McGarty |
| Carol Jackson | Lindsey Coulson |
| Minty Peterson | Cliff Parisi |
| Custody Officer | Keith Newby |
| Director | Richard Platt |
| Executive Producer | Bryan Kirkwood |
| Writer | Jeff Povey |