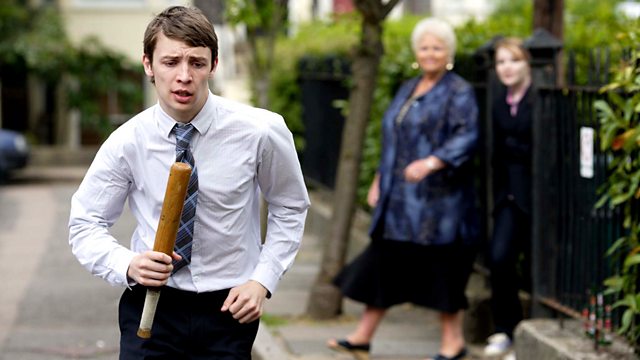 29/07/2010
Patrick, Libby and Chelsea are shocked by Denise's reappearance. Chelsea's furious and wants to call the police, sure Denise is a murderer who faked her own death. Libby's just overwhelmed; she can't believe her mum's alive. Denise insists she's innocent, Lucas was the murderer not her. Lucas walks in, he thinks they can start anew and be a family again - the people who tormented them are gone.
When Patrick tries to answer the phone, Lucas hits him then wrenches the phone cable from its socket. There's a knock at the door. Libby shouts for help, Lucas grabs her and wraps the phone cable around her neck. Lucas sends Patrick to answer the door. It's Heather, worried because Patrick didn't turn up for his shift. Patrick writes 'call police' in her notebook claiming he's written down the shop alarm code. Distracted, Heather doesn't read the note.
Inside the house, the tension rises, Libby stands up to Lucas and he throws a television out of the window, narrowly missing Abi. Jordan arrives home and, taking advantage of the distraction, Patrick ushers everyone out of the house. Jordan runs back inside. Lucas explains what happened when Trina died, and tells his son to forget him.
As the police arrive, Jordan bursts out of the house, followed by Lucas. Everyone watches as Lucas is arrested.
Liam, Jack, Max, Darren, Mercy, Fat Boy and Abi start a game of rounders in the square gardens. Jodie arrives, looking for Darren. They agree to start dating again – sex isn't everything. Abi's upset when she sees the couple kiss.
Louise worries that Phil's going to send her away. Phil phones Ritchie and asks her to sort out the situation with Lisa, legally.
Dot and Reverend Wallace aren't impressed by Heather's unconventional plans for George's baptism.
Last on
Credits
| Role | Contributor |
| --- | --- |
| Lucas Johnson | Don Gilet |
| Libby Fox | Belinda Owusu |
| Chelsea Fox | Tiana Benjamin |
| Patrick Trueman | Rudolph Walker |
| Jordan Johnson | Michael-Joel David Stuart |
| Liz Turner | Kate Williams |
| Max Branning | Jake Wood |
| Jack Branning | Scott Maslen |
| Arthur 'Fat Boy' Chubb | Ricky Norwood |
| Mercy Olubunmi | Bunmi Mojekwu |
| Darren Miller | Charlie G Hawkins |
| Jodie Gold | Kylie Babbington |
| Abi Branning | Lorna Fitzgerald |
| Liam Butcher | James Forde |
| Pat Evans | Pam St Clement |
| Dot Branning | June Brown |
| Heather Trott | Cheryl Fergison |
| Phil Mitchell | Steve McFadden |
| Peggy Mitchell | Barbara Windsor |
| Executive Producer | Bryan Kirkwood |
| Director | Jennie Darnell |
| Writer | Jane Marlow |
| Louise Mitchell | Brittany Papple |
| Reverend Wallace | Mark Meadows |