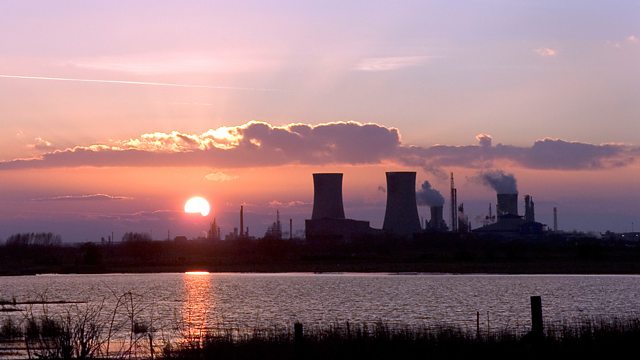 Redcar: Made of Steel
As the last blast furnace on Teesside is mothballed, Felicity Finch - who plays Ruth in The Archers - returns to her home town of Redcar to mark the end of 170 years of steelmaking in the area. Iron and Steel from Teesside helped build the world - the name is stamped on structures from the Sydney Harbour Bridge to Canary Wharf. At one time there were more than a hundred blast furnaces lining the River Tees from Stockton to Redcar.
Now, with the decommissioning of Redcar's Corus plant, it means the end of an industry which defined the region and defined it's people. It also means a bleak future for jobs on Teesside.
It was the discovery of huge deposits of iron ore under the Cleveland Hills in the 1840's which prompted a mini-Klondyke and brought migrant workers from across the country and the continent to dig for "rusty gold". Communities sprang up virtually over-night and Middlesbrough became known as "Ironopolis" , and was christened by Gladstone, "An Infant Hercules".
The deposits of iron ore ran out in the middle of the tewntieth century - but by then, the steel making industry was well established. The last of the Cleveland iron miners were recorded for posterity 20 years ago by a local film maker, Craig Hornby, who was curious to know more about his own history and heritage. The men - then in their 80's and 90's - told stories of life underground in an industry which had been over-shadowed by coal mining. Hornby was determined that their story should be heard - and released a film - about their lives and the way they'd helped build Teesside, which played to packed houses across the region. Archive of the old iron miners from Hornby's film "A Century in Stone" is included in the programme.
Felicity Finch - who spent her childhood years in Redcar - revisits the region to see how much it's changed ; she climbs Eston Nab with Craig Hornby, visits the iron-rush settlement of California - named after the US gold rush city - and goes underground to see the old iron workings; she hears from workers at Corus who started - and finished - their careers at the Redcar blast furnace; and discovers how much identity is tied up with heavy industry in Teesside - a region often overshadowed by it's more assertive neighbours , Yorkshire to the south Durham and Newcastle to the north.
Last on