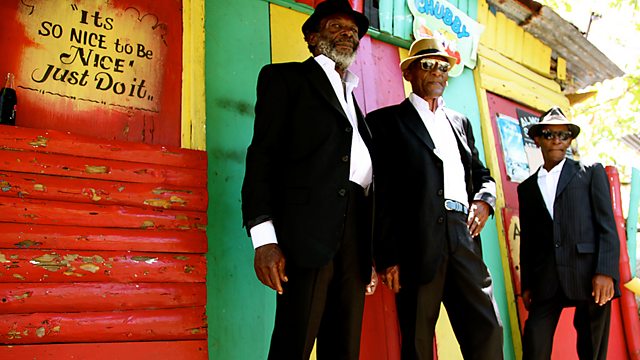 31/07/2010
Peter Curran and guests with an eclectic mix of conversation, music and comedy.
Think of Jamaica and you think of ska, reggae and dancehall but the roots of that music was mento. Back in the 1950's, Errol Flynn's house band were The Jolly Boys, the prime exponents of mento and 60 years later they're still playing together. Jon Baker, music producer and founder of Geejam records in Port Antonio rediscovered them and has modernised mento, got them back on the road and is bringing their distinctive style to a worldwide audience with their album Great Expectations.
Presenter and architectural historian Dan Cruickshank has trawled through reels of treasured footage to unearth Britain's social history through film in BBC Two's The Great British Home Movie Roadshow. He's also been lurking around in the bushes for his documentary on the history of Britain's parks, part of BBC Four's The Call of the Wild season.
Chat show hosts from hell? Judge for yourself as Peter Curran tries to handle America's favourite fifty-something Jewish mothers Ronna & Beverly. Self help gurus who have already given unwanted advice to Matthew Perry, Russell Brand, Matt Lucas and David Baddiel back in Los Angeles, the cult phenoms bring their show to the Edinburgh Fringe Festival throughout August.
From LA to Las Vegas - 6Music's Gideon Coe talks to the self confessed god fearing, delusional and controversial stand up Brendon Burns about his book 'Fear of Hat Loss in Las Vegas' based on his extraordinary Nevada odyssey.
Music comes from Jamaica's Jolly Boys and London based singer-songwriter Jono McCleery.
Producer: Cathie Mahoney.
Last on
Listen to Loose Ends anytime, anywhere.