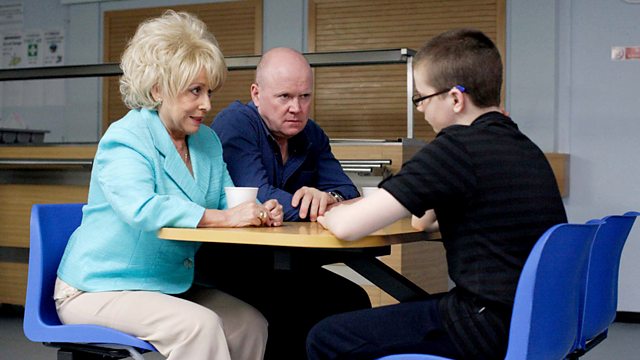 19/07/2010
Peggy and Glenda are keen to accompany Ronnie wedding dress shopping, but Ronnie only wants Roxy's help. Ronnie's upset when Glenda puts on the dress she wore to marry Archie, then tells Ronnie she wants her to wear it. Roxy looks through Glenda's things and finds her childhood doll. Ronnie's shocked to hear Archie's voice coming from the Vic sitting room. She finds Glenda and Roxy watching an old home video of Ronnie and Roxy. Later, Jack finds Ronnie crying in their bedroom, surrounded by ripped up wedding brochures.
Zainab's upset about Syed, but Masood carries on as normal, going to mosque and accepting a dinner invitation from Bushra. As far as Masood's concerned he only has two sons now.
Syed tries to cook and makes a horrendous mess. He expects Christian to be angry, but Christian just laughs and insists Syed take him out for dinner. When they see the Masoods in the street, they defiantly hold hands, and head into the Vic.
Peter asks Lucy how she got the exam papers. Adam brings Libby rice pudding, she's touched. At the Vic, talking about the funeral upsets Libby; she walks out and is comforted by Chelsea at home. Libby decides to go and apologise to Adam for leaving him on his own. Peter confronts Adam about blackmailing Lucy. Having overheard everything, Libby throws Adam's belongings out onto the street. When Adam taunts her about Denise, Libby slaps him, and the gathered crowd applaud. Adam drives away.
Phil can't face visiting Ben. Peggy tells Phil to grow up and goes on her own. Just as Ben asks where his dad is, Phil arrives. Ben insists everything's alright; a boy called Cal's looking out for him. When Ben leaves the visiting room Cal threatens him and Ben's left in tears.
Last on
Credits
| Role | Contributor |
| --- | --- |
| Ronnie Mitchell | Samantha Womack |
| Jack Branning | Scott Maslen |
| Glenda Mitchell | Glynis Barber |
| Roxy Mitchell | Rita Simons |
| Peggy Mitchell | Barbara Windsor |
| Phil Mitchell | Steve McFadden |
| Ben Michell | Charlie Jones |
| Shirley Carter | Linda Henry |
| Christian Clarke | John Partridge |
| Syed Masood | Marc Elliott |
| Masood Ahmed | Nitin Ganatra |
| Zainab Masood | Nina Wadia |
| Tamwar Masood | Himesh Patel |
| Lucy Beale | Melissa Suffield |
| Peter Beale | Thomas Law |
| Adam Best | David Proud |
| Libby Fox | Belinda Owusu |
| Chelsea Fox | Tiana Benjamin |
| Executive Producer | Bryan Kirkwood |
| Director | John Greening |
| Writer | Wendy Granditer |