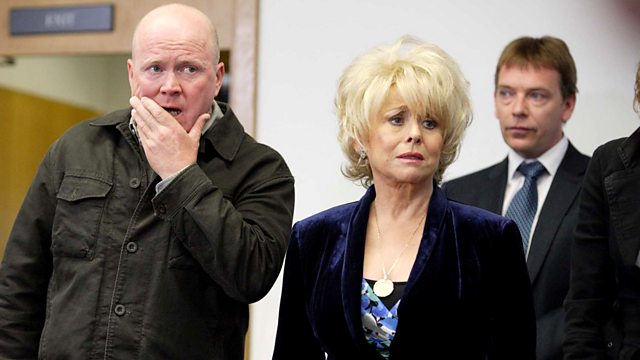 15/07/2010
Phil teaches Ben to shave; Ben hopes the cuts turn into scars, then he'll look tough. Feeling guilty, Peggy's gone overboard, buying Ben presents and organising a party.
Ben arrives at the party with very short hair and Ian grudgingly compliments Phil for boosting Ben's confidence. Jordan tells Ben he feels bad about what's happening. On the way to court, Phil offers Ben one last chance to run away, but Ben's determined not to. As they walk into the courtroom Ben panics, tearfully telling Phil he can't do it.
Ben's told he has to spend five months of his sentence in a young offenders institute. Shocked, Phil turns on Peggy - it's all her fault and she better hope Ben copes, for her sake as well as his.
Masood and Zainab realise the therapy's taking its toll on Syed. Masood insists Syed take some time off, look after Kamil and study the Qu'ran. Zainab ignores Christian when he tries to talk about Ina's party.
In revenge Christian caters the party with free fish and chips, so the Masoods' food goes to waste. Christian tells Zainab and Masood their family are bigots, he loves Syed in ways they couldn't imagine. Masood punches Christian.
Syed visits Christian, he apologises for his father and for denying he still has feelings for Christian. When Christian realises Syed doesn't intend to tells his parents, he asks Syed to leave.
Jean hopes Stacey will finally leave the house and show off baby Lily at Ina's party, but Stacey's determined to stay inside. Becca tells Jean she'll persuade Stacey, but doesn't try. Stacey evicts Becca from her bedroom and locks herself inside with Lily.
Jordan and Chelsea spend time together; Jordan admits he's having a tough time at school because of Denise. Chelsea cracks, and starts to cry.
Last on
Credits
| Role | Contributor |
| --- | --- |
| Peggy Mitchell | Barbara Windsor |
| Phil Mitchell | Steve McFadden |
| Ben Mitchell | Charlie Jones |
| Shirley Carter | Linda Henry |
| Ian Beale | Adam Woodyatt |
| Jane Beale | Laurie Brett |
| Christian Clarke | John Partridge |
| Syed Masood | Marc Elliott |
| Masood Ahmed | Nitin Ganatra |
| Zainab Masood | Nina Wadia |
| Tamwar Masood | Himesh Patel |
| Jean Slater | Gillian Wright |
| Stacey Branning | Lacey Turner |
| Becca Swanson | Simone James |
| Ronnie Mitchell | Samantha Womack |
| Roxy Mitchell | Rita Simons |
| Billy Mitchell | Perry Fenwick |
| Heather Trott | Cheryl Fergison |
| Jay Brown | Jamie Borthwick |
| Chelsea Fox | Tiana Benjamin |
| Jordan Johnson | Michael-Joel David Stuart |
| Zsa Zsa Carter | Emer Kenny |
| Lucy Beale | Melissa Suffield |
| Louise Mitchell | Brittany Papple |
| Ina Foot | Ina Clare |
| Ritchie Scott | Sian Webber |
| Judge | Simon Molloy |
| Director | John Greening |
| Executive Producer | Bryan Kirkwood |
| Writer | Richard Zajdlic |
EastEnders to tackle stillbirth storyline