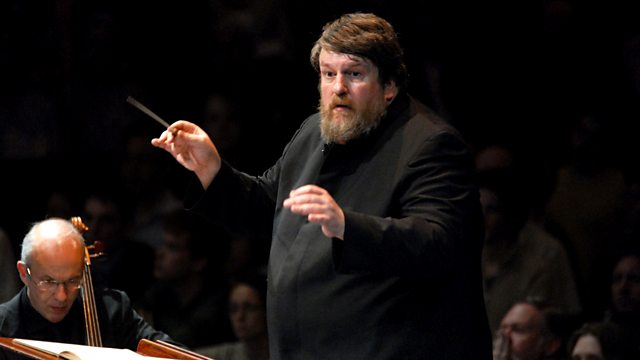 Prom 15
With Jonathan Swain
Oliver Knussen conducts the BBC Symphony Orchestra in this wide-ranging Prom from last week, opening with Stockhausen's festive overture from 1977 and continuing with a trio of recent British works, including Colin Matthews' Violin Concerto with soloist Leila Josefowicz. The Proms' Schumann symphony cycle, celebrating the bicentenary of the composer's birth, continues with the Third Symphony. It's the most pictorial, evoking by turns a beer garden by the Rhine and the Gothic magnificence of Cologne Cathedral. A century later Bernd Alois Zimmermann's witty Rhine-Church Festival Dances, celebrated the same German region. Presented by Martin Handley.
Stockhausen: Jubilee
Sir Harrison Birtwistle: Sonance Severance 2000
Colin Matthews: Violin Concerto (London premiere)
Luke Bedford: Outblaze the Sky
Zimmermann: Rheinische Kirmestänze
Schumann: Symphony No. 3 in E flat, 'Rhenish'
Leila Josefowicz (violin)
BBC Symphony Orchestra
Oliver Knussen (conductor)
Followed by highlights from last year's Mananan Festival, including:
Debussy: String Quartet
Doric String Quartet.
Last on