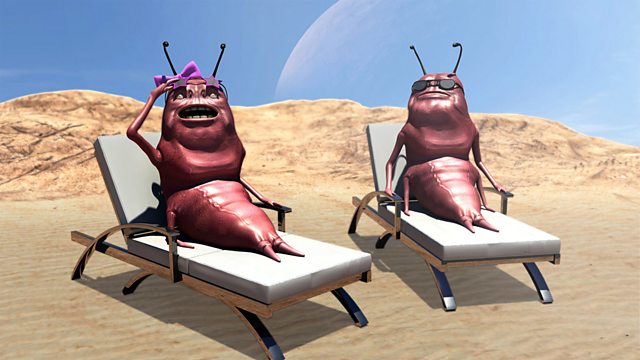 Childrens comedy series starring Rufus Hound as a TV presenter whose Future Self blasts him into a parallel universe where he must save the world from the evil Dr Muhahahaha.
Dr Mu's latest hair-brained plan is to invade the Earth using pizza. Harvesting the cheese mountains, giant tomatoes and olive groves of Princess Gelina's homeworld, Dr Mu has built up the biggest pizza chain in the multiverse. And with his profits he is constructing a giant, pizza-shaped starship called the Death Pizza.
Can Rufus escape the clutches of Dr Mu's pizza-troopers, rescue the princess, destroy the Death Pizza and save the Earth? Well, maybe, but only if he can remember the ingredients of a Four Seasons.
Last on
Credits
| Role | Contributor |
| --- | --- |
| Himself | Rufus Hound |
| Dr Muhahahaha | Colin McFarlane |
| Steve | Nadine Marshall |
| Future Rufus | Steven Wickham |
| Barry/Buck | Colin Ryan |
| Gill/Gelina | Eva Alexander |
| News Reader | Jan Ravens |
| Keith | Roger Davies |
| Troy Roswell | Rob Hill |
| Oxford Expert | Sally Anne Law |
| Oxford Expert | Daniel Liddiard |
| Writer | Jack Cheshire |
| Writer | Jack Cheshire |
| Director | Syd Macartney |
| Director | Syd Macartney |
| Producer | John Pocock |
| Producer | John Pocock |
| Executive Producer | Jack Cheshire |
| Executive Producer | Jack Cheshire |
| Executive Producer | Melissa Hardinge |
| Executive Producer | Melissa Hardinge |
| Producer | Carlene King |
| Producer | Carlene King |
| Script Supervisor | Angelica Pressello |
| Script Supervisor | Angelica Pressello |
| Production Designer | James Thompson |
| Production Designer | James Thompson |
| Makeup Artist | Caitlin Tanner |
| Makeup Artist | Caitlin Tanner |
| Costume designer | Marion Miller |
| Costume designer | Marion Miller |
| Sound Recordist | Joe Walters |
| Sound Recordist | Joe Walters |
| Director of photography | Pete Rowe |
| Director of photography | Pete Rowe |