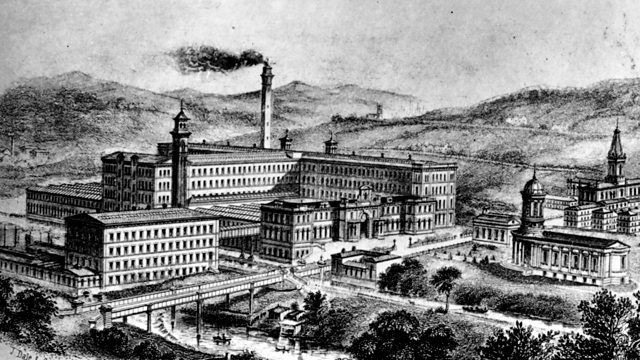 Temperance and the 1872 Licensing Act
We join presenter Mark Whitaker in the ideal industrial community of Saltaire, near Bradford. Developed between 1850 and 1870, it was planned as an environment in which workers would be diligent, healthy and happy - because they would have no access to alcohol.
At the heart of the village was the Saltaire Club and Institute that was set up "to supply the advantages of a public-house, but without the evils." Temperance developed from the 1830s as a movement of the skilled working classes, and in 1853 became organised as a formidable political pressure group - the UK Alliance. It argued for teetotalism, and for the right of ratepayers to ban the liquor trade in their own town.
It had formidable parliamentary support. But it was hated by writers such as Charles Dickens, who ridiculed the idea that prohibition would create a more sober nation. The Times dismissed teetotallers as "intolerant brooding theorists".
The issue came to a head in 1871-2. There was a General Election and Gladstone's Liberals were trying to pass a new Licensing Bill. The campaign was marred by violent confrontations between those who wanted more or less freedom to drink. Gladstone himself hoped to create a more continental drinking culture and reduced the duty on French wine. But he couldn't win. When he lost the next Election in 1874 he complained that he'd been "borne down in a torrent of gin and beer."
Actors read from temperance literature, from Dickens and from newspaper reports.
Producer: Mark Whitaker
A Square Dog production for BBC Radio 4.
Last on