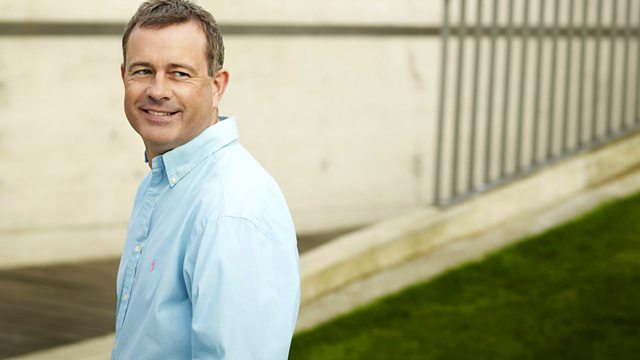 Tuesday - James Jolly
Classical Collection with James Jolly.
Great performances, classic recordings and a collection of works inspired by the Sea.
Today James Jolly plays Debussy's La Mer and Bax's Tintagel, and there's a classic recording of Mozart's Piano Quartet in G minor from the Leopold String Trio, with Paul Lewis.
10:00
Beethoven
Calm Sea and Prosperous Voyage
Monteverdi Choir
Orchestre Revolutionnaire et Romantique
John Eliot-Gardiner (conductor)
ARCHIV 435 391-2
10:07
Bach
Chaconne from Partita No. 2 in D minor
Viviane Hagner (violin)
ALTARA ALT1016
10:22
Debussy
La Mer
Berlin Philharmonic Orchestra
Simon Rattle (conductor)
EMI 558045-2
Group of 3: Nursery Rhymes
10:48
Stravinsky
The Owl and the Pussycat
Adrienne Albert (soprano)
Robert Craft (piano)
Sony SM2K 46 298
10:50
Debussy
Quelques aspects de "Nous n'irons plus au bois parce qu'il fait un temps insupportable"
from Images [oubliees]
Zoltan Kocsis (piano)
Philips 412 118-2
10:54
Janacek
Rikadla (Nursery Rhymes)
15. Grumpy German smashed the pots,
16. Nanny Goat's Lyring in the Hay
17. Ted, Fred, Drummer Boy
18. Little Frank, Little Frank
19. Bruin Sat Upon a Log
London Sinfonietta & Chorus
David Atherton (conductor)
Decca 430 375-2
11:00
Mozart
Piano Quartet in G minor,
Paul Lewis (piano)
Leopold String Trio
Hyperion CDA 67373
11:30
Takemitsu
Toward the Sea I
Patrick Gallois (flute)
Goran Sollscher (guitar)
DG 453 459-2
11:41
Bax
Tintagel
BBC Philharmonic Orchestra
Vernon Handley (conductor)
Chandos CHAN10122.
Last on