Add music you love and enjoy it with
Timings (where shown) are from the start of the programme in hours and minutes
00:00

Rymäkkä

Saksanpoikan metkupolkka

Ikee Kuim Puolitoista Volttia (hits like one and a half volts), Rymäkkä RYMCD006

00:03

I Smell a Rat – Early Black Rock n Roll vol.2 1949-1959, Trikont US0412

00:06

Knut Reiersrud & Iver Kleive

Ain't no grave can hold my body down

Blå Koral, Kirkelig Kulturverkstad FXCD 106

00:11

Artist: Mats Eilertsen (bass), Tore Burnborg (saxophone), Thomas T Dahl (guitar), Olavi Louhivuori (drums)

Radio Yonder, Hubro CD2501

00:19

Extra Wow, Warp Records WARPCD187

00:23

Artist: Max Roach (drums), Abbey Lincoln (vocals), Ray Mantilla (percussion), Tomas DuVall (percussion), Michael Olatunji (congas)

We Insist, Candid 79002

00:31

00:38

Northern Skies, Rebekah Findlay TEDRFCD 001

Late Junction collaboration session – James Blackshaw & Nancy Elizabeth

00:46

Nancy Elizabeth & James Blackshaw

The Last Battle

BBC session recording, 30 May 2010

00:50

James Blackshaw & Nancy Elizabeth

All Is Gone (working title)

BBC session recording, 30 May 2010

00:58

Nancy Elizabeth & James Blackshaw

Death in a Sunny Room

BBC session recording, 30 May 2010

01:02

Book of Velocities, ECM 1732765

01:05

Head over High Heels – Strong & Female 1927-1959, Trikont US-0401

01:08

Mambo Ska, Casino Sounds CAS20102

01:12

Nigel Kennedy & Kroke

Time 4 Time

Music & Rhythm – WOMAD 1982-2007, WOMAD 25

01:23

The Flexible Entertainer, Thrill Jockey THRILL231CD

01:28

Sadja (Embryo with Kenneth Wells)

Sadja (1975)

Embryo - 40, Trikont US-0404

01:31

Rymäkkä

Vaahteranlehti

Ikee Kuim Puolitoista Volttia (hits like one and a half volts), Rymäkkä RYMCD006

01:34

Terje Rypdal & Bergen Big Band

Clint – the Menace / One of those

Crime Scene, ECM 273 3215

01:41

Porcelain Opera, Type 077
James Blackshaw and Nancy Elizabeth

See more photos from the session

James Blackshaw & Nancy Elizabeth Session

James and Nancy had never recorded together before, but they recently did a tour together (along with Hauschka) in a project called Kept Impulses - so they had got to know each other before they met up at Maida Vale. Nevertheless, they started from scratch in the studio, bringing ideas and half-written pieces, to see what might work. They each brought a guitar, and when they found there were two Steinway grands in the studio, they were both eager to use the pianos too. Three finished works were accomplished by the end of the afternoon, all live takes straight to stereo except for some added harmony vocal overdubs on the third piece. Nancy also persuaded James to do a bit of singing...
Late Junction on BBC Playlister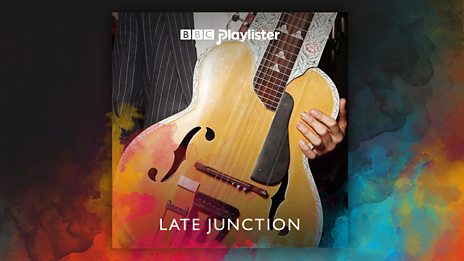 Selections from Radio 3's eclectic showcase of music from around the world.
Podcast
Late Junction's unique studio sessions bring together musicians who have never recorded together…