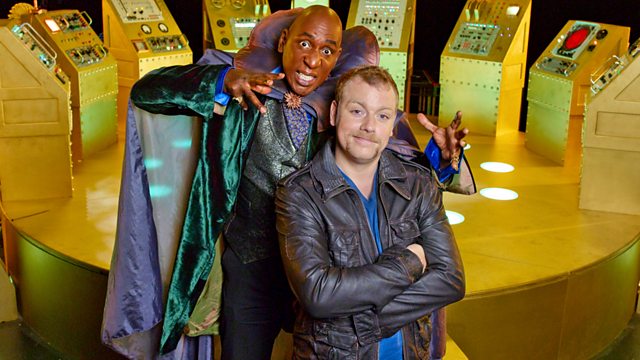 A Look at the Stars
Childrens comedy series starring Rufus Hound as a TV presenter whose Future Self blasts him into a parallel universe where he must save the world from the evil Dr Muhahahaha.
Desperate to impress his arch-enemy and old school friend Dr Wu, Dr Mu decides to steal the sun, using a giant intergalactic space wormhole, a plan that threatens to leave the Earth quite literally out in the cold.
Can Rufus save the world from its icy fate? And how on earth is a tin of cat food from his future self ever going to help anybody?
Last on
Credits
| Role | Contributor |
| --- | --- |
| Himself | Rufus Hound |
| Dr Muhahahaha | Colin McFarlane |
| Steve | Nadine Marshall |
| Future Rufus | Steven Wickham |
| Barry/Buck | Colin Ryan |
| Gill/Gelina | Eva Alexander |
| Dr Wu | Nitin Ganatra |
| Newsreader | Jan Ravens |
| Writer | Paula Hines |
| Writer | Paula Hines |
| Director | Syd Macartney |
| Director | Syd Macartney |
| Producer | John Pocock |
| Producer | John Pocock |
| Executive Producer | Jack Cheshire |
| Executive Producer | Jack Cheshire |
| Executive Producer | Melissa Hardinge |
| Executive Producer | Melissa Hardinge |
| Producer | Carlene King |
| Producer | Carlene King |
| Casting | Jo Buckingham |
| Casting | Jo Buckingham |
| Musician | Play and Record |
| Musician | Play and Record |
| Script Supervisor | Angelica Pressello |
| Script Supervisor | Angelica Pressello |
| Production Designer | James Thompson |
| Production Designer | James Thompson |
| Makeup Artist | Caitlin Tanner |
| Makeup Artist | Caitlin Tanner |
| Costume designer | Marion Miller |
| Costume designer | Marion Miller |
| Sound Recordist | Joe Walters |
| Sound Recordist | Joe Walters |
| Director of photography | Pete Rowe |
| Director of photography | Pete Rowe |
| Assistant Director | Chris May |
| Assistant Director | Chris May |