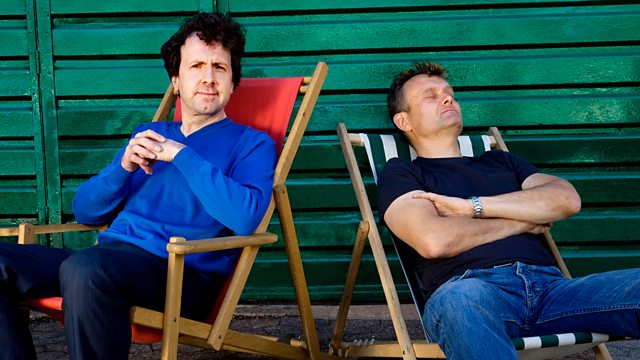 Paul the Psychic Octopus: Our animal-heavy silly season series continues with a football-result-predicting octopus finding international fame.
Steve Punt and John Finnemore guide listeners through the government's plans for electoral reform; though it's still unclear which voting system next year's referendum will follow.
Both gravy and actual trains are under revue as the BBC and royal family report back on their own value for money, and can the national press really have recycled an article about the blacking-out of a Midlands swimming pool's windows, without checking the facts?
Mitch marks Ringo's birthday with an octo-ode, Jon Holmes thinks newspaper headline writers are making stuff up, "Naomi Campbell to Testify at War Crimes Trial" Really? And guest, Henning Wehn, gives a German perspective on the World Cup.
Starring Steve Punt and John Finnemore, with Mitch Benn, Jon Holmes, Laura Shavin and Henning Wehn.
Written by the cast, with additional material from James Kettle, Carrie Quinlan, John Luke Roberts and Andy Wolton. Produced by Colin Anderson.
This week's Audience Question:
"Russia and the USA are exchanging captured spies, what's the best / worst swap you've ever made?"
If you'd like to share your answer or to read other people's, search for #nowshow on Twitter.
Last on