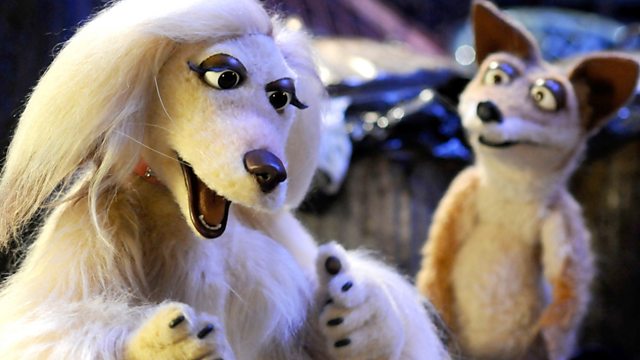 Adult multi-species puppet comedy about five urban animals who hang out together in the back yard of an inner city pub. Starring Nelson, a metrosexual fox; Destiny, a pretentious pedigree It-bitch; Marion, a freshly-neutered wannabe tomcat; Kali, a deeply cynical pigeon; and Vince, the neighbourhood sociopath. Created by Adam Miller, developed by Jon Brown, Adam Miller and Daniel Peak, written by Jon Brown and Daniel Peak, and featuring the voices of Rufus Jones, Lucy Montgomery, Dan Tetsell, Katy Brand, Paul Kaye and Ruth Bratt. Puppets created by Talk to the Hand.
Nelson uses Toby Anstis's social networking login to set up a blind date with a human. However, he gets a shock when he discovers the Wendy he was planning to meet isn't a human being after all, but a chicken.
Destiny joins owner Gary for the canine horror show that is Strictly Dog Dancing and falls for badboy Rivers from the dog disobedience class. If she is to see Rivers again, Destiny has to start behaving really badly.
When Marion's owner dies, Kali sees an opportunity for Marion to pose as a missing cat called Chopsticks in order to rob his owner for all she's worth. Marion finds his new life most comfortable, until his new owner takes him to be neutered.
Last on
More episodes
Previous
You are at the first episode
Credits
| Role | Contributor |
| --- | --- |
| Marion (voice) | Dan Tetsell |
| Marion | Warrick Brownlow-Pike |
| Nelson (voice) | Rufus Jones |
| Nelson | Andy Heath |
| Destiny (voice) | Lucy Montgomery |
| Destiny | Richard Coombs |
| Destiny | Sue Beattie |
| Kali (voice) | Katy Brand |
| Kali | Iestyn Evans |
| Vince (voice) | Paul Kaye |
| Wendy (voice) | Ruth Bratt |
| Chopsticks (voice) | Lewis Macleod |
| Gary | Tony Way |
| Margaret | Rita Davies |
| Dale | James Doherty |
| Ruth | Joan Linder |
| Policeman | Harry Morrison |
| Vet | Jonathan Ryland |
| Puppeteer | Mandy Glass |
| Puppeteer | Matt Hutchinson |
| Animal Trainer | Zoe Gardner |
| Himself | Toby Anstis |
| Puppeteer | Lucy Lloyd |
| Puppeteer | Toby Olie |
| Puppeteer | Simon Buckley |
| Puppeteer | Mak Wilson |
| Puppeteer | Janet Knetchel |
| Puppeteer | Yvonne Stone |
| Producer | Stephen McCrum |
| Director | Adam Miller |
| Writer | Daniel Peak |
| Writer | Jon Brown |
Buy online
Buy online
Available on: DVD, Blu-ray or Video download
From suppliers including: BBC Store