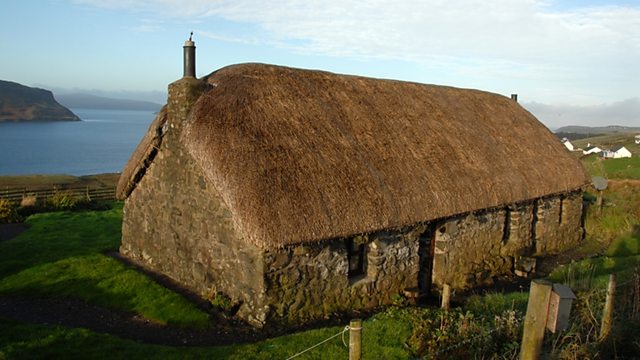 The Island of Skye
RUNNING ORDER - Timings are approximate and given in hours and minutes from the start of the Zone.
00:00 Songlines - Soraidh Leis An Ait: Farewell to the Place is a beautiful lament written in the 19th century by Mairi Mhor Nan Oran - Big Mary of the Songs. A strong, politically-motivated crofting woman, her influence still resonates today, particularly on Skye. Over the years, "Soraidh Leis An Ait" has become an anthem for the island. Presenter John Cavanagh sets off to find out why.
00:28 The MacCrimmons of Skye: There's one family of musicians who for 3 centuries, dominated the musical landscape of Skye. The MacCrimmons were a family of bagpipers and composers who lived and worked on the island. This episode of composer Ronald Stevenson's archive series concentrates on the century from 1645 to 1745.
00:58 Scotland's Music: Waulking songs, milking songs, laments, pibroch, a lullaby, a banishment and a repetitive strain injury all feature in a day's music at the seat of the Clan MacLeod in 1667. In this archive episode of Scotland's Music John Purser introduces us to a day at Dunvegan Castle.
01:26 In the Footsteps of Flora MacDonald: Singer-songwriter Eddi Reader makes a pilgrimage in the path of the romantic heroine, staying overnight in Flora's former cottage to investigate her legacy on the Isle of Skye where she discovers that Flora's adventure continued long after the departure of Bonnie Prince Charlie.
01:54 The MacCrimmons of Skye: Presenter Ronald Stevenson discusses a MacCrimmon family landmark – their bagpipe college on the island of Skye.
02:22 Sunday Morning with Richard Holloway: Richard meets Skye born Donnie Munro, former singer with Runrig, visual artist, political activist and a Director at Sabhal Mòr Ostaig, Scotland's National Centre for the Gaelic Language and Culture.
03:17 Walking Through History: Presenter Neil Oliver is at Glendale where in the 19th century, action taken by a handful of determined crofters led to land reforms which changed the course of Highland history.
03:47 The MacCrimmons of Skye: Presenter Ronald Stevenson introduces The Last of the MacCrimmons.
04:17 The Reel Blend: Presenter Robbie Shepherd meets Skye born Eilidh MacPherson who has gone on to become a global success in the world of competitive sheep shearing!
04:27 Collectors of Pibroch: First broadcast in 1976, Seumas McNeill and Archie Kenneth discuss the virtuoso bagpipe playing of Donald McDonald.
04:56 The MacCrimmons of Skye: Presenter Ronald Stevenson analyses the enduring legacy of the Skye family of bagpipers and composers.
05:25 Celtic Zone presenter Bruce MacGregor introduces a track of his own music: Blazzing Fiddles and The Road to Skye.
Last on