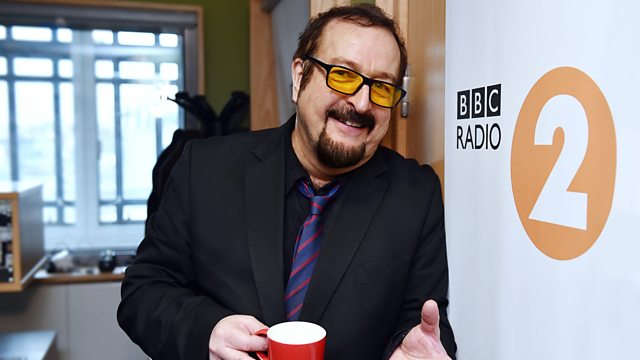 Richard Quest and Spencer Vignes
Today Steve, Tim and The Old Woman are joned by eccentric CNN host Richard Quest who brings in his own bell to help explain possible cuts in the coalition governement's first budget. The team also chat to journalist Spencer Vignes who's written a book full of 130 years of Wimbledon trivia including the shocking news that Tim Henman was the first ever competitor to be disqualified from the annual tournament for hitting a ball girl with a rogue tennis ball.
In more Wimbledon themed fun, Steve, Tim and the Old Woman treat you to some tennis themed Factoids including who is the championship's youngest winner, and when the first ever Wimbledon took place.
Mickie Miles from Maidstone in Kent, a landscape gardener, chooses today's Oldies and treats us to half an hour of smashers including a particularly purple one from Prince and a classic from Michael Jackson.
In the last hour of the show, astrologer Sarah Bartlett joins Steve and Tim to peer into the stars on your behalf, while sports reporter Matt Williams reveals all the tennis and World Cup news live from Centre Court in SW19.
And then there's the top-notch Talkie bits - this afternoon the Old Woman reveals the recipe for a truly heartstopping portion of bread and dripping, and discover why fresh pizza is good for your sex life.
Last on
Today's Most Popular Tracks
Most added tracks from this show
How to download Serious Jockin'