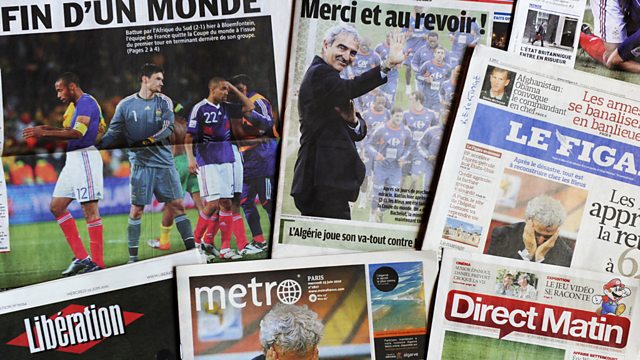 23/06/2010
Listen in pop-out player
In his first broadcast interview the new chief-executive of Channel 4, David Abraham, shares his vision for the channel with Steve Hewlett. And media analyst Dan Sabbagh offers his view on what this might mean for the TV industry and how it could affect what will be coming to your TV screen in the coming months.
As Christine Bleakley follows Adrian Chiles from BBC One's One Show over to ITV Steve talks to Alan Yentob the BBC's creative director. Just who is responsible for the fact that the duo will no longer be part of the BBC's primetime line-up? And does it really reflect a change in the way the BBC will deal with big name presenters?
And as the French national team return home from South Africa after failing to qualify for the next round of the World Cup - what has the reaction been from their national media? London based French journalist Veronique Forge has been examining the coverage for us.
The producer is Simon Tillotson.
Last on