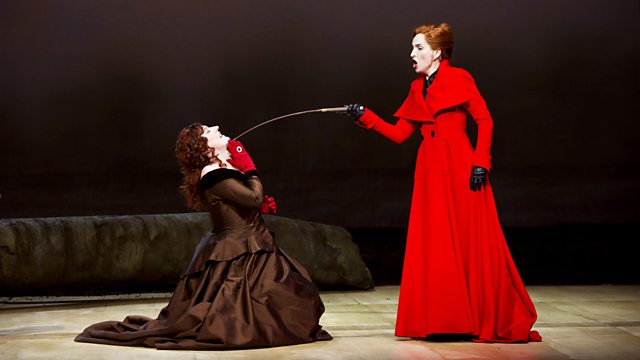 Donizetti's Maria Stuarda
Donizetti's 3-act opera Maria Stuarda was inspired by Schiller's play, and is based on fictional events leading to the execution of Mary Queen of Scots, and caused such controversy that it was originally banned in 1834. After then the opera was occasionally performed in Italy but in a censored version, and the opera's twentieth century revival was in 1958.
The focus of the opera is on the fictional and confrontational meeting between Mary Stuart, the Catholic Queen of Scotland, and the Protestant Queen Elizabeth I, resulting in Mary's condemnation and execution. The opera is now considered one of Donizetti's most powerful and compelling, culminating in a dramatic final scene.
Sarah Connolly sings the title role of Mary Stuart, and Antonia Cifrone sings Elizabeth. This new production by Opera North is directed by Antony McDonald, and is conducted by Guido Johannes Rumstadt, who makes his debut with the company.
Presented by Donald Macleod.
Mary Stuart ..... Sarah Connolly (mezzo-soprano)
Queen Elizabeth ..... Antonia Cifrone (soprano)
Robert Dudley, Earl of Leicester ..... Bülent Bezdüz (tenor)
Sir William Cecil ..... David Kempster (baritone)
George Talbot, Earl of Shrewsbury ..... Frédéric Bourreau (bass)
Hannah Kennedy ..... Michelle Walton (soprano)
Orchestra and Chorus of Opera North conducted by Guido Johannes Rumstadt.
Last on