ON THE SHOW THIS WEEK

Kwame Kwei-Armah, playwright, singer, actor and musician. Kwame's plays have included Seize the Day, which imagines a black man running for Mayor of London, and Let There Be Love for the Tricycle Theatre and Elima's Kitchen , Fix Up and Statement of Regret, a provocative look at the Black British experience, for the National Theatre.

Gillian Slovo- South African born novelist and playwright. Her recent books include Every Secret Thing an autobiographical account of the things she witnessed as a child in South Africa as daughter of Joe Slovo and Ruth First, both well known anti apartheid campaigners, and Black Orchids a novel that expands across post war Ceylon and Britain.

John O Farrell- author, broadcaster and comedy scriptwriter. John's novels have included The Best a Man Can Get and May Contain Nuts. His recently published An Utterly Exasperated History of Modern Britain delivers his own take on modern history. John is a Fulham season ticket holder and likes to play a bit of football himself.

Gary Younge- feature writer and columnist for The Guardian, is usually based in New York. His recent book Who Are We examines identity and what it means in the 21st Century. A frequent visitor to South Africa, in 1994 he had had the pleasure of watching South Africa vs. Zambia on the day of Mandela's inauguration.

BEING DISCUSSED ON THE REVIEW SHOW.....

FILMS

Invictus - DVD release 14th June
Tsotsi - available on DVD
Triomf - on limited cinema release now
Jerusalema - on limited cinema release from July 9th
Football Fables - on limited cinema release now
Looking for Eric - available on DVD

BOOKS

Africa United, Steve Bloomberg - published by Canongate
Ways of Staying, Kevin Bloom - published by Granta

THEATRE

Dream of the Dog, Trafalgar Studios, London - until 19th June.

THE WORLD CUP 2010

Let the games begin! The Football World Cup 2010 has arrived and we will be discussing the colourful opening ceremony, and the hugely expensive ad campaigns that have sprung up around the World Cup.

FIFA'S OFFICIAL WEBSITE

FOOTBALL AND AFRICA

The hosting of the football World Cup in South Africa will have a massive effect on how the continent will be perceived elsewhere, but can the sport also help to explain how Africans see themselves?

Steve Bloomfield is a foreign correspondent and author of 'Africa United – How Football Explains Africa', which looks at how the sport is often closely tied up with politics. Filmmaker Baff Akoto is the director of 'Football Fables', a documentary about footballers in Ghana trying to make it to the big time by following in the footsteps of players like Michael Essien and getting a contract in Europe.

They tell us why the sport is so important to people on the continent.

FOOTBALL FABLES OFFICIAL WEBSITE

POST-APARTHEID CULTURE IN SOUTH AFRICA

A wealth of films, books and theatre produced since the end of apartheid in South Africa. Some have claimed it is a golden age for culture, nick-naming the film industry Sollywood. But has the emphasis been on violence and racial division? We look at some of the highlights: films including the tale of young gangsters Tsotsi, black comedy Triomf about the country's poor white working class, allegorical sci-fi District 9 and the new brutal crime drama Jerusalema. And we'll also discuss Kevin Bloom's new non-fictional book about living in South Africa Ways of Staying. We talk to actress and director Janet Suzman who discusses how writers have represented the country since Apartheid, and her role in Dream of the Dog, a play currently at Trafalgar Studios in London. The play depicts a white couple about to leave their recently sold farm who are revisited by a former black farm worker whose anger about the death of a young black girl on the farm many years previously leads to shocking revelations about the white couple's past.

ENGLAND AND FOOTBALL

If it is true that you can tell a lot about a nation's characteristics by the way they play football, then what does England's style of play say about them? David Baddiel and Frank Skinner, the stand-up duo also responsible for the enduring unofficial English national anthem 'Three Lions', gave us their thoughts before heading out to the tournament. They discuss us whether football qualifies as art, and why England manager Fabio Capello is the football equivalent of Damien Hirst.

Baddiel and Skinner - podcasts from South Africa

CULTURAL HIGHLIGHTS FROM KRISTIN SCOTT THOMAS

And cultural highlights this week come from Oscar-nominated actress Kristin Scott Thomas. Currently starring in a passionate new French language film, Leaving, directed by Catherine Corsini, Kristin tells us what artistic delights she's been listening to, reading and watching of late.

LIVE MUSIC FROM BALLAKE SISSOKO AND VINCENT SEGAL

Our music this week has a suitably African flavour.

Ballake Sissoko is a kora player from Mali and Vincent Segal is a French classical cello player: together they play a wonderful blend of African fusion music. They perform an exclusive track from album 'Chamber Music'.

Ballake and Vincent will also be appearing at Exhibition Road Music Day 2010, Sunday 20 June, a free music festival taking place in some of the UK's best loved museums and cultural institutions.
Chvrches live on The Review Show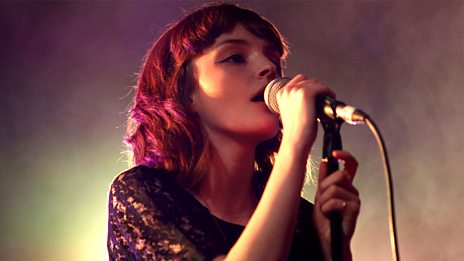 Watch the Glasgow electro-pop trio perform Recover live at Pacific Quay