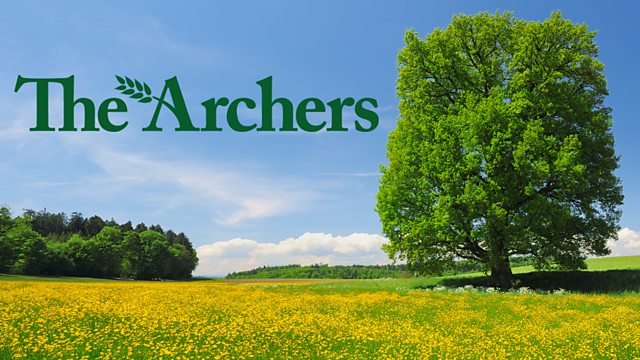 25/06/2010
Lilian reveals to Pat that Jolene is set to return to Ambridge next Wednesday. She won't decide where to scatter Sid's ashes until she's home. They discuss how difficult things must be for Kenton and Kathy, now Jaxx Bar has opened. They feel for Jamie too, who seems to be struggling to face reality.
Lilian's upbeat about her new property business, pointing out that it's a joint venture. Pat's surprised to learn that Lilian and Matt have taken Brenda on. Pat wastes no time in singing Brenda's praises, but Lilian is less effusive.
Meanwhile, Bert's on a guided bird walk at Arkwright Lake, where Kirsty is selling wildflowers to raise money for a new hide.
Over at Brookfield, Ruth helps David with weighing and selecting lambs for the abattoir. Josh is still editing Jill's cookery video and so far it's looking good. Pip interrupts with some big news. She intends to leave college to go travelling with Jude. She finally tells them about messing up two exams. David and Ruth try to make Pip consider her options before quitting, but she shocks them by admitting the deed is already done.
WRITTEN BY ..... ADRIAN FLYNN
DIRECTED BY ..... JULIE BECKETT
EDITOR ..... VANESSA WHITBURN
JILL ARCHER ... PATRICIA GREENE
KENTON ARCHER ... RICHARD ATTLEE
DAVID ARCHER ... TIMOTHY BENTINCK
RUTH ARCHER ... FELICITY FINCH
PIP ARCHER ... HELEN MONKS
JOSH ARCHER ... CIAN CHEESBROUGH
PAT ARCHER ... PATRICIA GALLIMORE
TOM ARCHER ... TOM GRAHAM
BRIAN ALDRIDGE ... CHARLES COLLINGWOOD
JENNIFER ALDRIDGE ... ANGELA PIPER
KATE ALDRIDGE ... KELLIE BRIGHT
ALICE ALDRIDGE ... HOLLIE CHAPMAN
MATT CRAWFORD ... KIM DURHAM
LILIAN BELLAMY ... SUNNY ORMONDE
FALLON ROGERS ... JOANNA VAN KAMPEN
KATHY PERKS ... HEDLI NIKLAUS
JAMIE PERKS ... DAN CIOTKOWSKI
CHRISTOPHER CARTER ... WILL SANDERSON-THWAITE
BRENDA TUCKER ... AMY SHINDLER
KIRSTY MILLER ... ANNABELLE DOWLER
JAZZER McCREARY ... RYAN KELLY
JUDE SIMPSON ... PIERS WEHNER
HARRY MORGAN ... MICHAEL SHELFORD
BENEDICT WHEELER ... SAM DALE
AMANDA WHEELER ... ALISON PETTITT.
Last on