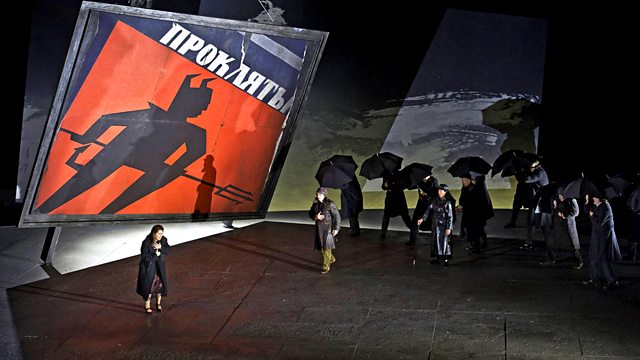 Janacek's Katya Kabanova
Among the more remarkable stories of reinvigorated old age is the miracle of Leos Janacek's creative Indian summer. Its cause was the Czech composer's passion for the already married Kamila Stösslová: they met when he was in his mid-sixties and she was nearly forty years his junior. But despite - or perhaps because of - the fact that it was a largely one-sided affair on his part, he poured his passion into the music he wrote in the last decade of his life and created a series of undoubted masterpieces, including the first of his four late operas, Katya Kabanova. It tells the tragic story of a woman trapped in a loveless marriage, stifled by provincial society -and the mother-in-law from hell. Katya has her brief moment of extra-marital passion which inexorably leads to her suicide.
The pared-down intensity of Janacek's opera with its short, terse, scenes was echoed in director David Alden's acclaimed production, with American soprano Patricia Racette, making her English National Opera debut in the title role. Tenor Stuart Skelton (who made such an impression as Peter Grimes last season at ENO) plays Katya's lover - the man who seems to be in the right place at the right time, and who disappears rather too quickly and easily - and Susan Bickley is the mother in law you're glad you don't have.
Before the opera begins, Martin Handley discusses its themes and origins with Mike Ashman.
Recorded in March at the London Coliseum
6.20pm
Katya Kabanova ..... Patricia Racette (soprano)
Boris ..... Stuart Skelton (tenor)
Kabanicha ..... Susan Bickley (mezzo-soprano)
Tikhon ..... John Graham-Hall (tenor)
Varvara ..... Anna Grevelius (mezzo-soprano)
Vanya ..... Alfie Boe (tenor)
Dikoy ..... Clive Bayley (bass)
Glasha ..... Valerie Reid (mezzo-soprano)
Kuligin ..... Nicholas Folwell (baritone)
Feklusha ..... Michelle Daly (mezzo-soprano)
Mark Wigglesworth ...... Conductor
Orchestra of English National Opera.
Last on