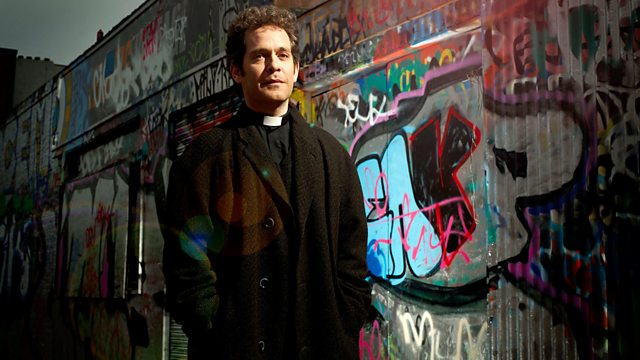 New sitcom Rev; Francis Drake's musicians
Listen in pop-out player
Rev is a contemporary sitcom about the daily frustrations and moral conflicts of an inner city vicar, and stars Tom Hollander as Reverend Andrew Smallbone. Mark Lawson and Father David Gilmore, Rector of St Anne's, Soho, discuss the series.
In November 1577 Francis Drake set sail on an epic journey which took him half way around the globe. On board were four viol players who played music to accompany Drake's private worship. Composer Orlando Gough has joined forces with viol consort Fretwork for a concert which features new music by Gough alongside 16th century pieces which Drake's original viol players might have performed. Fretwork play live in the studio and Orlando Gough discusses the challenges of re-creating this unusual voyage.
Belgium-born artist Francis Alys creates drawings, paintings, photography, film and video installations. He moved to Mexico City in the mid 80s, and in one of his works he pushed a block of ice around the city until it melted. As his new exhibition opens in Tate Modern, Alys talks to Mark about his approach to his art, and about the usefulness of his training as an architect.
The acclaimed Japanese film Rashomon returns to British cinemas this week, marking the centenary of the birth of its director Akira Kurosawa. Rashomon is the story of a rape and murder, told in four conflicting versions by four different people involved. Ingenious in its day, this multi-viewpoint approach has influenced many later films and plays. Film expert Adrian Wootton and playwright David Edgar explore the Rashomon effect.
Producer Piers Bradford.
Last on