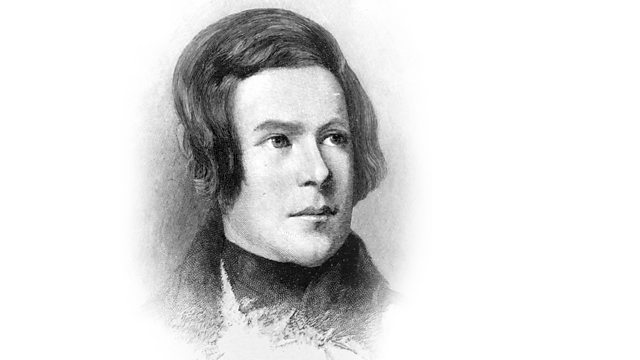 Part 1
Andrew McGregor and Sarah Walker introduce a day of music from around Europe celebrating the 200th anniversary of Schumann's birth. Highlights include a performance of the composer's great song cycle Dichterliebe, Op 48, by Christoph Pregardien and Michael Gees, and a rare opportunity to hear highlights from the Szenen aus Goethes Faust. The Day also includes a series of postcards from Germany, as Sarah Walker visits the locations that played a key role in Schumann's life, from his birthplace in Zwickau to the asylum near Bonn where he was incarcerated for the last two and a half years of his life, via Leipzig, Dresden and Dusseldorf.
12.00
A concert recorded at the Gewandhaus, Leipzig
Joachim Elegische Overture
Brahms Violin Concerto in D, Op 77
Schumann Symphony No 4 in D minor, Op 120
Sarah Chang (violin) MDR Symphony Orchestra, conductor Stefan Solyom
2.00
A concert recorded at the DR Concert Hall in Copenhagen
Schumann Cello Concerto in A minor, Op 129b (arranged for violin & orchestra)
Danish National Symphony Orchestra, conductor John Storgards (violin)
Schumann Andante & Variations for 2 pianos, 2 cellos & horn, Op 46
Diamond Ensemble
3.00
A concert recorded in the Mozart Hall at Schwetzingen Castle
Schumann Liederkreis, Op 24 (selection); Dichterliebe, Op 48
Christoph Pregardien (tenor)
Michael Gees (piano).
Last on