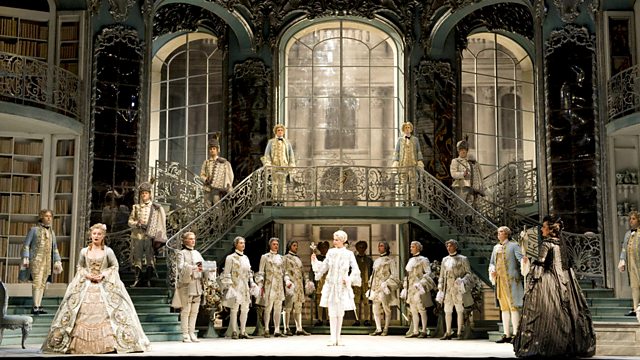 Strauss's Der Rosenkavalier
The Marschallin is deeply in love with her young lover Octavian, but knows that she's getting older, and one day he'll tire of her. Her fears are realised sooner than she thought when he presents a ceremonial silver rose to Sophie, and falls instantly in love with her. Strauss's opera Der Rosenkavalier contains comedy, pathos, and some truly beautiful writing for his female characters. This production, recorded last December at the Royal Opera House, Covent Garden stars Soile Isokoski, Sophie Koch and Lucy Crowe with Kirill Petrenko conducting, and the broadcast includes interviews with cast and conductor.
From the Royal Opera House, Covent Garden, Presented by Christopher Cook
Octavian ..... Sophie Koch (mezzo-soprano)
Marschallin ..... Soile Isokoski (soprano)
Sophie ..... Lucy Crowe (soprano)
Baron Ochs ..... Peter Rose (bass)
Herr von Faninal ..... Thomas Allen (bass)
Valzacchi ..... Graham Clark (tenor)
Annina ..... Leah-Marian Jones (mezzo-soprano)
Marianne Leitmetzerin ..... Elaine McKrill (soprano)
Notary ..... Lynton Black (bass-baritone)
Italian Singer ..... Wookyung Kim (tenor)
Noble Widow ..... Glenys Groves (soprano)
Noble Orphans ..... Tamsin Coombs, Deborah Peake-Jones (sopranos),
Andrea Hazell (mezzo-soprano)
Major Domo to Marschallin .....Robert Anthony Gardiner (tenor)
Major Domo to Faninal ..... Steven Ebel (tenor)
Doctor ..... Alan Duffield (tenor)
Inkeeper ..... Robert Worle (tenor)
Police Commissioner ..... Jeremy White (bass)
Kirill Petrenko ..... Conductor
Royal Opera Chorus
Orchestra of the Royal Opera House.
Last on