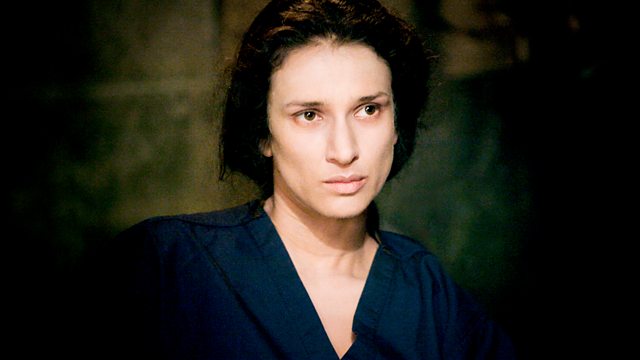 The Last Witch Trial
By Melissa Murray
1944. Exhausted by the war, many people are turning to spiritualism for comfort. But now the authorities are worried that mediums may give away vital military secrets...
Lucy ..... Indira Varma
Margo ..... Lyndsey Marshal
Helen ..... Joanna Monro
June ..... Vineeta Rishi
Prosecutor ...... Sam Dale
Cousin ..... Michael Shelford
Woman ..... Keely Beresford
Directed by Marc Beeby
The Last Witch Trial is a story woven around real events. 1944, the fifth year of the Second World War, and the country is exhausted. Morale is very fragile. There's been too much death and destruction. Everyone has lost someone. It's unbearable. Surely there must be some way to make contact, to be reassured that the dead are happy in the afterlife. Many find comfort in conventional religion but almost as many turn to that time's alternative faith, spiritualism.
D-Day is fast approaching and the Allies are in an advanced state of paranoia. They are terrified that the Germans might get hold of their plans. So terrified they look in the strangest places for potential spies. They arrest and interrogate crossword compilers who have come up with 'suspicious looking' clues. And now they are about to arrest and possibly charge Helen Duncan, the well known Scottish medium.
Lucy Kirkland, Third Officer in the WRNS is not the kind of woman to have much time for spiritualism. Being sent undercover to one of Duncan's sÃ(c)ances she sees as a humiliating waste of time. Nevertheless, she does her job, writes her report and Duncan is arrested and charged under the 1735 Witchcraft Act for 'falsely purporting to conjure spirits'.
Lucy comes in for a fair amount of teasing from fellow officers for being involved in a Witch Trial. But Margery Lane, odd shy little Margo, stands up for her. When Lucy is due to give evidence at the trial, Margo, to Lucy's surprise and delight, decides to come to London with her. But Margo has motives other than friendship, and soon Lucy finds herself increasingly, and desperately, out of her depth.
The Writer
Melissa Murray has written extensively for theatre, published a collection of short stories, is currently the Arts correspondent for one of the main RTE radio arts programmes and is a frequent contributor of radio essays on Irish radio. For the BBC she has written seventeen original plays on a wide variety of subjects. Her most recent work for Radio 4 includes an original play, Theremin, a dramatisation of The Birds by Daphne du Maurier and Restless by William Boyd, shortlisted for a Sony Award.
Last on