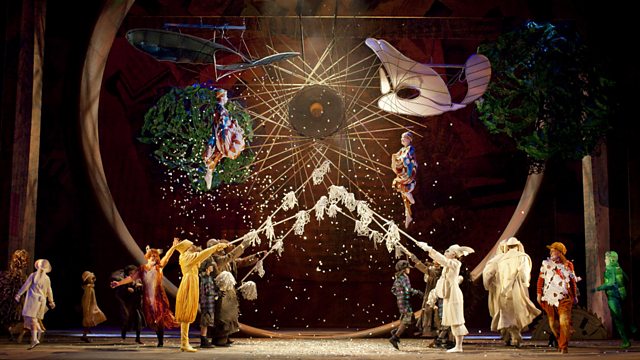 Janacek's The Cunning Little Vixen
Janacek's The Cunning Little Vixen holds a very special place in the repertoire - an opera whose characters are a mixture of human beings and animals and that started life as a cartoon-strip in a newspaper. It tells the story of the life of a Vixen from the moment she is adopted as a pet by the Forester to the moment she is shot by the Poacher. Inbetween times she's briefly a suffragette, marries and produces countless children. We meet her woodland friends and enemies - and their lives are contrasted with the human characters who live nearby, among them a lonely priest, an elderly schoolmaster and an overworked innkeeper. But the magic of Janacek's score is in the way he portrays all of these lives with his most colourful and deftly woven music, sometimes spiky, sometimes intensely lyrical. Amazingly, the recent performances at the Royal Opera House were the first time the great Janacek interpreter Sir Charles Mackerras had conducted the opera there. He was joined by the Australian soprano Emma Matthews making her house debut in the title role and Christopher Maltman singing the part of the Forester for the first time.
Presented by Martin Handley.
Vixen Sharp-Ears ..... Emma Matthews (soprano)
Forester ..... Christopher Maltman (baritone)
Fox ..... Elizabeth Meister (soprano)
Schoolmaster/Mosquito ..... Robin Leggate (tenor)
Gamekeeper's Wife/Owl ..... Madeleine Shaw (mezzo-soprano)
Priest/Badger ..... Jeremy White (bass)
Harasta ..... Matthew Rose (bass)
Pasek ..... Alasdair Elliott (tenor)
Inkeeper's Wife ..... Elizabeth Sikora (mezzo-soprano)
Pepik ..... Simona Mihai (soprano)
Frantik ..... Elizabeth Cragg (soprano)
Rooster/Jay ..... Deborah Peake-Jones (soprano)
Chief Hen ..... Glenys Groves (soprano)
Cricket ..... Peter Shafran (treble)
Caterpillar .....Talor Hanson (child soprano)
Frog ..... Harry Bradford (treble)
Young Vixen ..... Eleanor Burke (child soprano)
Woodpecker ..... Amanda Floyd (mezzo-soprano)
Sir Charles Mackerras, Conductor
Royal Opera Chorus
Children's Chorus
Orchestra of the Royal Opera House.
Last on