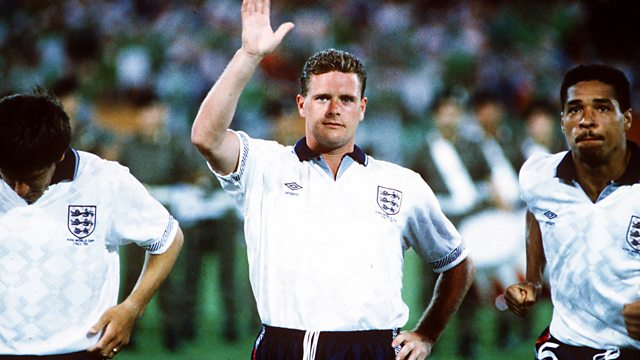 England Expects
Presenter David Goldblatt relives 60 years of hope and hurt in England's World Cup campaigns, and how through the World Cups England can trace its relationship with itself and the rest of the world.
This programme uses archive from the North West Sound Archives, including interviews with Alf Ramsey, Bobby Robson, Stanley Matthews and Brian Clough. It will also look at the role that devolution has had on the English psyche, reflected at international matches with the Union Jack flag in decline, being replaced by the St George's Cross.
In Brazil 1950 England thought themselves invincible, only to find themselves humiliated by a USA team made up of part-timers. England's football world was shaken, just as the country was coming to terms with a shift in its post-war political position in the world.
The role of the managers will be examined in this programme, starting with Walter Winterbottom, who wasn't allowed to select his own team. His successor changed that and insisted on having complete control over who played. That manager was Alf Ramsey and with him we see England finally achieve their goal, World Cup winners in 1966. Ramsey was the first manager to clash with the media, a familiar pattern that would subsequently repeat itself.
The high of 1966 was followed by disappointments: the dark years of the 1970s when the team failed to qualify for the next two World Cups, and the country struggled with economic problems at home, as well as increasing violence at football matches.The 1990 World Cup in Italy saw a game in the process of transformation.
On the eve of the 2010 World Cup in South Africa, England Expects will reflect on 60 years of the nation's participation in the greatest sporting event in the world.
Producer: Carol Purcell.
Last on