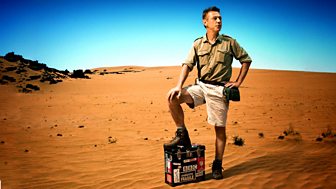 Music Planet
Eight, one-hour programmes of music to accompany the major BBC1 TV series 'Human Planet'.
Andy Kershaw and Lucy Duran have been trekking all over the world to bring us music from the peoples of some of the world's remotest regions – from the jungles of Papua New Guinea to the deserts of Mali; from the heart of the Amazon to the islands of the Pacific; from the dark winter days of Greenland to the long summer nights of Arctic Norway; from the dried-up rivers of Kenya to the grasslands of Mongolia.
Music Planet will accompany the transmission of BBC1's 'Human Planet', and follows the different environments and landscapes of the TV series: Arctic, Oceans, Grasslands, Rivers, Deserts, Mountains, Jungles and finally the Urban environment.
'Music Planet' is a chance to go more deeply into the cultures featured in the TV series: music is perhaps the most profound expression of the human spirit, and it can take us to the emotional heart of a culture. Sometimes, people we saw in Human Planet will reappear in Music Planet, like the shark-callers of Papua New Guinea, and the Sami reindeer-herders of Norway; and always it's the very best of that culture's music, captured in high-quality sound by the BBC's top music recording engineers. And throughout, Andy Kershaw and Lucy Duran bring their own special insights to the music.
Some highlights of Music Planet
- A traditional head-hunting song from New Ireland in Papua New Guinea
- Glorious gospel sounds from the Deep Sea Canoe Movement on the Solomon Islands
- An Inuit throat-singing duet, recorded by the frozen Arctic Sea
- Music from the Sayan Ring Festival in Siberia
- The mighty voice of Greenland's greatest singer
- The story of the Mangue-bit movement in Recife, Brazil
- Dogon songs from the southern tip of the Sahara in Mali
- The secret songs of Burma recorded in the jungle on the border with Thailand
- Ritual music and sea shanties from the magical island of Madagascar
- Yodelling and massed alphorn ensembles from the Swiss Alps
On radio
There are no upcoming broadcasts of this programme
Last on
Sat 5 Mar 2011 15:00
BBC Radio 3
Listen to these on location programmes and view images from the musical journeys.