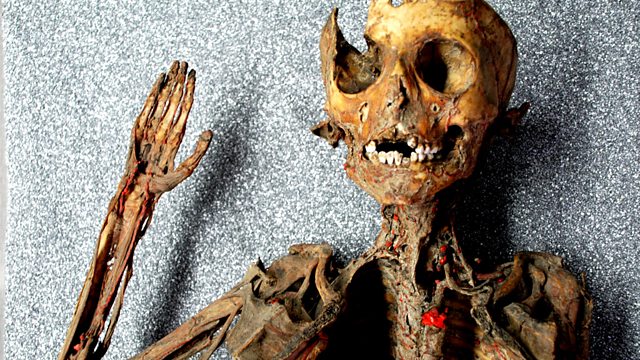 History series which sees skeletons of everyday people from across the ages analysed in staggering detail, opening new windows on the history of our forebears by literally revealing the person behind the skeleton. The fascinating work of world-renowned Professor Sue Black OBE and her team at the Centre for Human Anatomy and Identification at the University of Dundee comes under the spotlight as the team works on answering three big questions from the skeleton. Who were they? Why did they die? What does their life story tell us that we didn't know before?
Using the full arsenal of modern forensic anthropology remarkable stories emerge from long forgotten bones, along with the faces of people who haven't been seen for hundreds of years. Bodies are unearthed in a range of circumstances, from a medieval body unearthed at a Scottish castle, to a heavily scarred Georgian woman discovered in a mass burial pit in London. None of the skeletons is famous; all are everyday people, whose extraordinary stories would have died with them if it weren't for Sue Black and her colleagues. With forensic science techniques such as carbon dating, bone chemical analysis and facial reconstruction, they find new layers of detail to add to our knowledge of Britain's past.
This time the team heads back into a dark corner of the 19th century, to a time when corpses were turned into trophies and children were sold by the inch. Their subject is the bizarre mummified body of a child. Sue and the team pick up the trail that leads to body snatching, serial murder and anatomical science in darkest Victorian Britain. Can they give our boy a home, a face, or a name?
Last on
Credits
| Role | Contributor |
| --- | --- |
| Participant | Sue Black |
| Participant | Xanthe Mallett |
| Participant | Caroline Wilkinson |
| Participant | Wolfram Meier-Augenstein |
| Executive Producer | Natalie Humphreys |
| Director | Harvey Lilley |