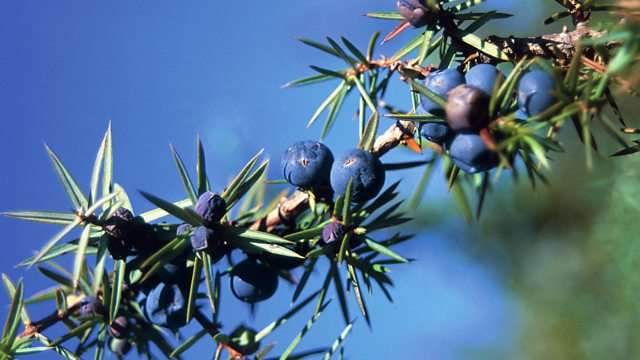 Junipers
Listen in pop-out player
1/18. If you like gin, you should be interested in Junipers. Its aromatic berries give gin its characteristic flavour; they are considered medicinal and are delicious in cooking. And it lives in the UK. Juniper is one of only three native British conifers, and one of the first to recolonise Britain after the ice age.
The Defence Science and Technology Laboratory (Dstl), the Ministry of Defence civilian science centre, has about a fifth of the UK population of Juniper at its Porton Down site near Salisbury. However, there's a problem. The bushes here are either middle aged or close to the end of their lives, at over a hundred. There are no youngsters as the seedlings get eaten by millions of rabbits which share the range. As a result, the Juniper here could be extinct in 50 years.
Lionel Kelleway ventures out onto Porton Down to find out more. He talks first to Lena Ward, who has studied them for 41 years, and then meets Carl Mayers, Dstl Project Leader.
Lena is clearly fascinated with Juniper and reveals that on Porton Down 19 species of invertebrates rely on it. She explains that as a plant which prefers impoverished soils, it could thrive here. But, because its seedlings are being mown down by rabbits and surrounded by other plants like Blackthorn, it's in trouble. Which is where Carl Mayers comes in.
Carl explains how Dstl is working with Plantlife to collect berries, check seed fertility and process seeds. The seeds are then sown on the Porton Down range and protected with special rabbit-proof cages to give them a head start. If successful, this technique could secure the future not only of the Juniper on Porton Down but elsewhere in Britain. I'll drink to that.
Presented by Lionel Kelleway
Produced by Tania Dorrity.
Last on