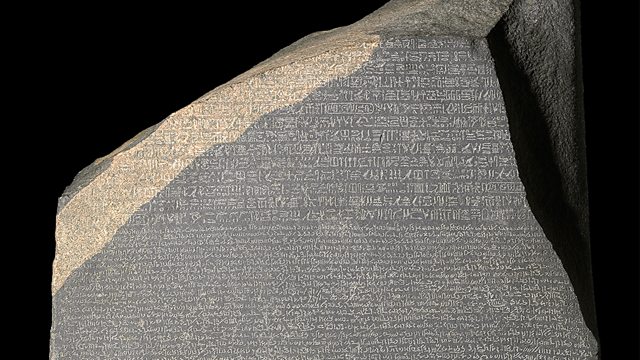 Listen in pop-out player
Today's programme finds Neil MacGregor in the company of one of the best known inhabitants of the British Museum - the Rosetta Stone. Throughout this week he is exploring shifting empires and the rise of legendary rulers around the world over 2000 years ago and here he takes us to the Egypt of Ptolemy V. He tells the story of the Greek kings who ruled in Alexandria. He also explains the struggle between the British and the French over the Middle East and their squabble over the stone. And, of course, he describes the astonishing contest that led to the most famous decipherment in history - the cracking of the hieroglyphics on the Rosetta Stone. Historian Dorothy Thompson and the writer Ahdaf Soueif help untangle the tale.
Producer: Anthony Denselow.
Last on