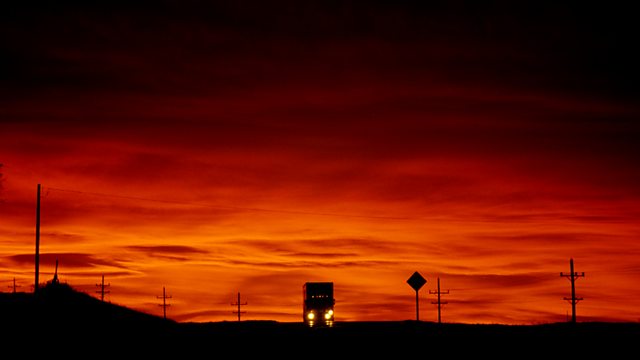 17/05/2010
As the BBC Young Musician Competition draws to a close, John Shea presents the first of 5 programmes celebrating young talent from around Europe.
01:01AM
Martinů, Bohuslav [1890-1959]
3 Czech dances for piano
Anastasia Vorotnaya (b.1995) (piano)
01:10AM
Debussy, Claude [1862-1918]
Syrinx for flute solo
Ivica Gabrisova-Encingerova (flute)
01:13AM
Martin, Frank [1890-1974]
Ballade for flute and piano
Aniela Frey (flute), François Killlian (piano)
01:22AM
Tchaikovsky, Pyotr Il'yich [1840-1893]
Ya vas lyublyu [I love you beyond...] from The Queen of Spades Act 2 sc. 1
Yuriy Tsiple (baritone) Roman National Radio Orchestra, Horia Andreescu (conductor)
01:26AM
Donizetti, Gaetano [1797-1848]
Come Paride vezzoso from L'Elisir d'amore Act 1 sc. 1
Yuriy Tsiple (baritone) Roman National Radio Orchestra, Horia Andreescu (conductor)
01:30AM
Kodály, Zoltán [1882-1967]
Sonata for cello solo (Op.8) (1st movement)
Mark Schumann (cello)
01:39AM
Blavet, Michel [1700-1768]
Sonata for flute and continuo (Op.2'4) in G minor "La Lumagne"
Galilea Nevart-Veron (flute) Nikos Kyriosoglu (piano)
01:48AM
Scarlatti, Domenico [1685-1757]
6 Sonatas [1. D major (k. 33); 2. A major (k. 268); 3. F sharp major (k. 319); 4. B minor (k. 87); 5. E major (k. 380); 6. F major (k. 17)]
Sergei Kasparov (b.1979) (piano)
02:09AM
Rachmaninov, Sergey (1873-1943)
3 Symphonic dances for orchestra (Op.45)
Royal Liverpool Philharmonic Orchestra, Vasily Petrenko (conductor)
02:44AM
Bach, Johann Sebastian (1685-1750)
Motet: Singet dem Herrn ein neues Lied (BWV.225)
The Sixteen, Netherlands Radio Chamber Orchestra (Barockformation), Ton Koopman (conductor)
03:01AM
Chausson, Ernest (1855-1899)
Concerto in D major for violin, piano and string quartet (Op.21) (1891)
Kjell Lysell (solo violin), Bengt Åke-Lundin (solo piano), Yggdrasil String Quartet
03:43AM
Ibert, Jacques (1890-1962)
Little Suite in 15 pictures
Adam Fellegi (piano)
04:00AM
Bach, Johann Sebastian (1685-1750)
Brandenburg Concerto No.2 in F (BWV.1047]
Ars Barocca
04:12AM
Dallapiccola, Luigi (1904-1975)
Due Cori di Michaelangelo Buonarroto il Giovane'
The Netherlands Chamber Choir, Eric Ericson (conductor)
04:24AM
Busoni, Ferruccio (1866-1924)
Indianisches Tagebuch, Book 1 (1915): No.1; No.2 - Vivace; No.3 - Andante; No.4 - Maestoso ma andando
Valerie Tryon (piano)
04:35AM
Fritz, Gaspard (1716-1783)
Sonata for violin and continuo (Op.2 No.4)
Sibylle Tschopp (violin), Isabel Tschopp (piano)
04:48AM
Elgar, Edward (1857-1934)
Serenade for Strings
Seoul Chamber Orchestra, Yong-Yun Kim (conductor)
05:01AM
Klami, Uuno (1900-1961)
Numisuutarit (suite for orchestra)
Finnish Radio Symphony Orchestra, Jukka-Pekka Saraste (conductor)
05:09AM
Mendelssohn, Felix (1809-1847)
Hora est (antiphon and responsorium)
Radio France Chorus, Denis Comtet (organ), Donald Palumbo (conductor)
05:18AM
Chopin, Frédéric (1810-1849)
Ballade No.4 in F minor (Op.52)
Valerie Tryon (piano)
05:29AM
Grainger, Percy (1882-1961)
Hill-Song No.1
Melbourne Symphony Orchestra, Geoffrey Simon (conductor)
05:43AM
Mozart, Wolfgang Amadeus (1756-1791)
Flute Quartet No.1 in D major (K.285)
Carol Wincenc (flute), Chee-Yun (violin), Nokuthula Ngwenyama (viola), David Finckel (cello)
05:57AM
Dvorak, Anton (1841-1904)
Piano Trio No.4 in E Minor, Op.90 "Dumky"
Beaux Arts Trio
06:32AM
Haydn, Joseph (1732-1809)
Symphony no.92 (H.1.92) in G major, 'Oxford'
Estonian National Symphony Orchestra, Peeter Lilje (conductor).
Last on