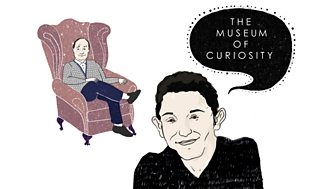 Series 3
Co-hosted by John Lloyd (who produced Blackadder, created QI and wrote The Meaning Of Liff with Douglas Adams) and Jon Richardson (with one guest curating stint by Dave Gorman in episode 2 when Jon Richardson was detained in Australia by volcanic ash from Eyjafjallajokull).
The idea of the show is to bring together the most interesting people we can find and ask them to submit one item each to fill the Museum's empty plinths. We always have three guests for each half hour episode, which we record in front of a live audience.
We hope you appreciate that it's not quite like most comedy panel shows. We don't have rounds, there are no teams and there are no points, winners or losers. We want to celebrate the guests we invite on and the things they have to tell us. The aim is to generate a great discussion, full of wit and interesting observations.
Our researchers are the 2 star QI elves James Harkin and Molly Oldfield.
The show was devised by John Lloyd, Richard Turner (Twitter @Senexiracundus) and Dan Schreiber (Twitter @Schreiberland).
On demand
This programme is not currently available on BBC iPlayer Radio
On radio
There are no upcoming broadcasts of this programme
Last on
Sat 3 Jan 2015 01:00
BBC Radio 4 Extra