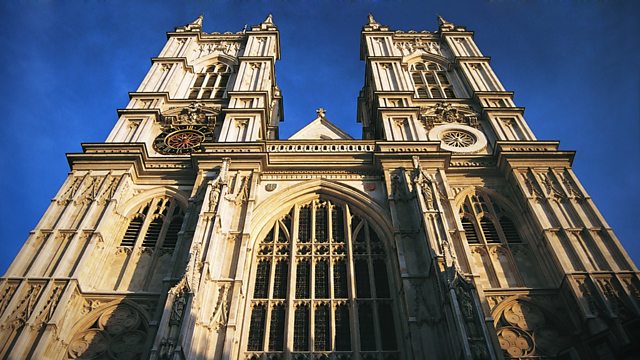 Westminster Abbey
Mark Tully presents a special edition of Something Understood from Westminster Abbey, which this month celebrates the 450th anniversary of its establishment as a collegiate church by Elizabeth I.
The Dean of Westminster, The Very Reverend Dr John Hall, guides us through some of the Abbey's most sacred spaces, and talks about the inspiration he finds in the 'prayer-soaked walls'. Prayer is the main theme of the programme, and The Dean talks personally about how and why he prays, including an admission that before any great State Service involving the Queen, he sends up a quick 'stiffening' arrow of prayer.
The programme includes prayers by some of those who are buried in the Abbey, like Charles Dickens, Gerard Manley Hopkins and Sir Isaac Newton. The music too is by the great musicians commemorated there: Handel, Purcell, Stanford, and Noel Coward, whose moving wartime song 'London Pride' celebrates the spirit of the Blitz. Other readings include an account of Charles II's coronation in the Abbey by Samuel Pepys - as always just as interested in the fine ladies as the spectacle going on round him; and a sharp satire on prayer by John Betjeman.
A programme which evokes the awe of a very beautiful sacred space - but which is also witty, and lively, never too solemn.
The producer is Elizabeth Burke. This is a Loftus production for BBC Radio 4.
Last on