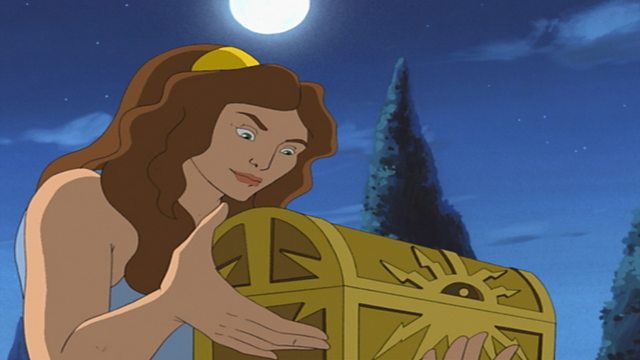 Searbh le dòighean an t-saoghail, tha an Dia mòr Zeus ag iarraidh air an dà bhràthair Prometheus agus Epimetheus nithean mìorbhailteach a chruthachadh dha a dh'fhàgas cuisean nas inntinniche. Ge-tà, tha Prometheus a' dol an aghaidh Zeus 's mar thoradh a' cur fearg air a bheir buaidh air an t-saoghal gu lèir. An tig aig mac an duine air faighinn thairis air a chruadal a thig a leigeil mun sgaoil à bocsa Phandora.
Retelling the most heroic stories of all time.
Tiring of the ways of the world, Zeus asks brothers Prometheus and Epimetheus to create new wonders for him on earth. Despite Zeus's warnings not to, Prometheus decides to give man fire. Zeus is furious that Prometheus has defied him and punishes Prometheus and the rest of mankind.
Last on