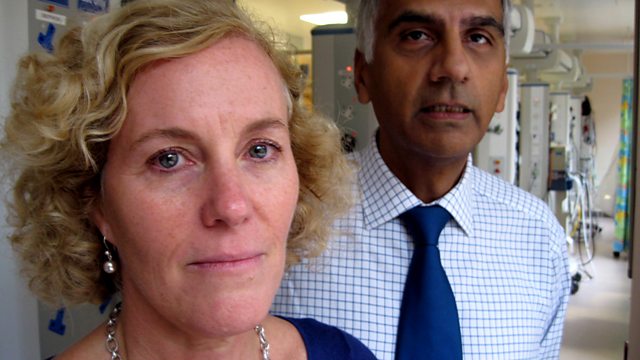 Great Ormond Street continues with unprecedented access to doctors from one of the top children's hospitals in the world as they make some of the hardest choices in medicine. When medical technology seems to offer so much, every parent with a sick child will hope that something can be done, but doctors must decide when enough is enough.
Caught in the Machine looks at the work of Great Ormond Street Hospital's Intensive Care Unit. It is the largest such unit in the UK and takes patients from all over the country. It is often the last resort for those who can't be helped anywhere else and, although most patients leave the ward in three days, some must stay longer.
The film follows intensive care consultants Christine Pierce and Andy Petros as they make crucial decisions about their most difficult cases: seven-year-old Ellis has been in a coma for five weeks with an unknown illness, and doctors must keep him alive if they are to have any chance of solving the mystery of his condition; eight-month-old Uzoma has been in hospital since she was born and the team must assess if she will ever be well enough to go home; the parents of eight-month-old Deanne have been told the injuries she suffered as a result of her prematurity are so severe that she is unlikely to survive for long, but her mother doesn't believe this and has asked the hospital to review her case; finally there is a one-day-old baby born without a windpipe and the team must decide whether it is right to try experimental surgery even though it has little chance of success.
In every case the team are faced with an impossible dilemma. Technology can keep a child alive on a machine almost indefinitely but, when a child is not getting any better, doctors must decide whether it is right to carry on.
Last on
Credits
| Role | Contributor |
| --- | --- |
| Director | Ricardo Pollack |
| Executive Producer | Roger Graef |